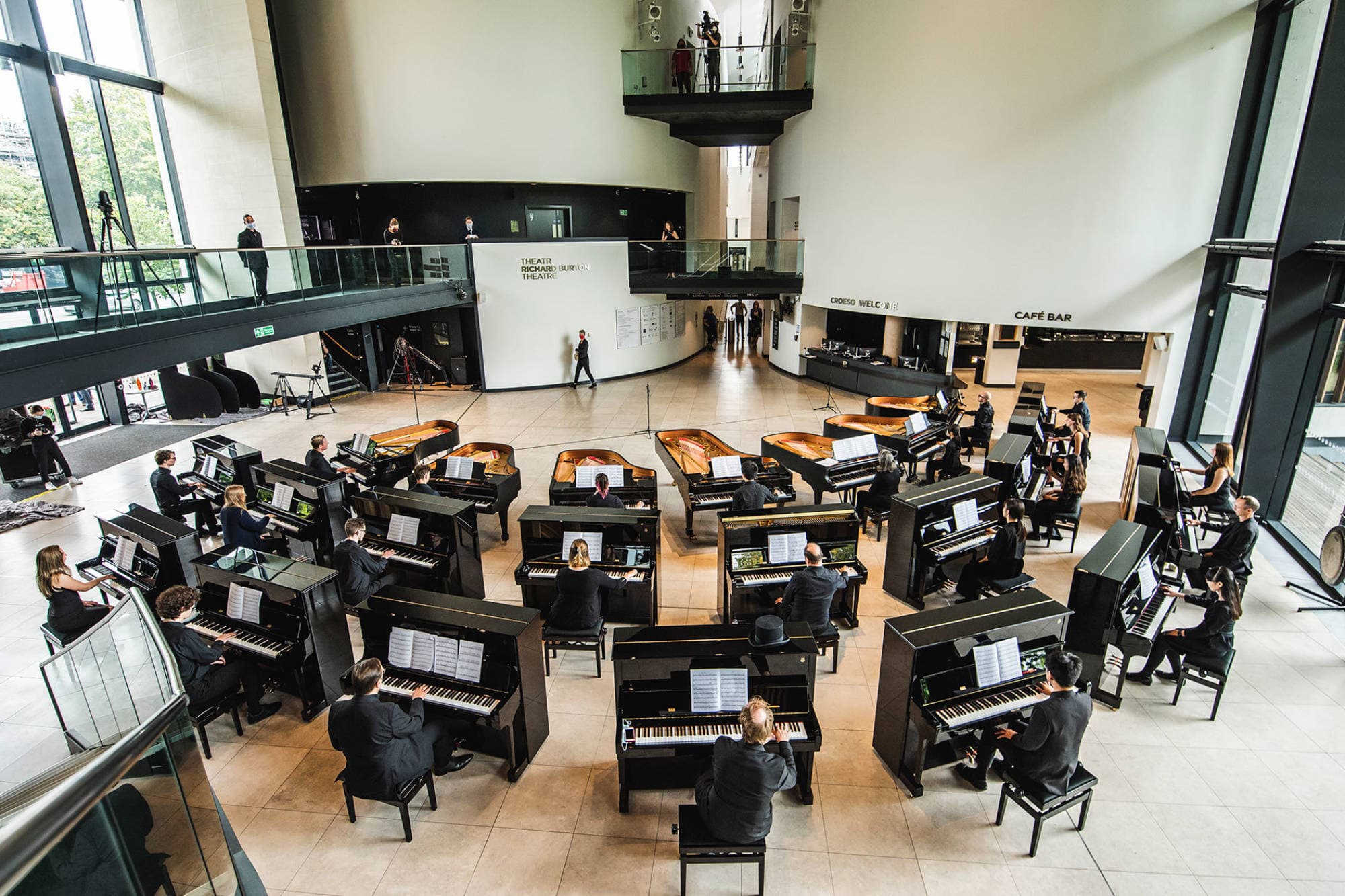 Music
In the music department here at RWCMD, the focus is on you and the musician you want to be. We'll help you to develop your skills as an individual, a collaborative artist and as a musician who will contribute to society.
Why study music at RWCMD?
We boast small class sizes with one-to-one teaching, providing our students with a bespoke education that is best suited to their needs.
We have our own arts centre on campus which presents 500 plus performances each year allowing you the opportunity to witness world class performers on campus and to perform at live events yourself.
We are a multicultural institution, with students from 40 different countries.
Our teaching staff are internationally renowned artists, collaborators and educators.
Creative collaboration across all our departments which draws together staff and students from across the college.
An iconic setting - the College's stunning architecture includes an acoustically excellent chamber music recital hall, a beautiful courtyard theatre, state of the art studios and an impressive foyer space.
Our audition process focuses on showing you at your best.
The campus is located in the very centre of Cardiff, the capital city of Wales, and is under two hours by train to central London.
Cardiff is the 'Most Cost-effective City' in the UK for Students, according to the Natwest Student Living Index 2022.
Our campus hosts major events such as BBC Cardiff Singer of the World, World Stage Design, World Harp Congress and BBC Young Musician of the Year.
We are the only Steinway-Exclusive Conservatoire in the world, and every acoustic piano at the College is a Steinway. All music students will now have access to a Steinway when they practice, when they are examined, and when they perform.
The College is the first UK conservatoire to achieve a gold standard level of quality assurance across Music, Drama and Under 18s in the recent international MusiQuE, Music Quality Enhancement review. Reviewers were particularly impressed with the College's approach to the individual student experience, multidisciplinary collaboration, and overall ambition, citing RWCMD as a shining example of best practice across European conservatoires, and reflecting the College's exceptional people and unique community.
'What is so central to life at the RWCMD is the idea that the music that we make is not just what you play, it's about who you are and what you bring to it.'

Elizabeth Bonsell

BMus Student
'If you have the talent, the dedication, if you have the motivation to be the best musician you can possibly be, you're welcome here. We believe in you from the moment you arrive.'

Tim Rhys-Evans

Director of Music
Sign up to receive our latest updates
An email asking you to confirm your address will be sent. Please check your spam / junk folder if the email doesn't arrive within a few minutes.
The College takes the protection of all personal information seriously and is fully committed to the protection of the rights and freedoms of all individuals. We will process your data according to our privacy statement, which you can read at https://www.rwcmd.ac.uk/privacy