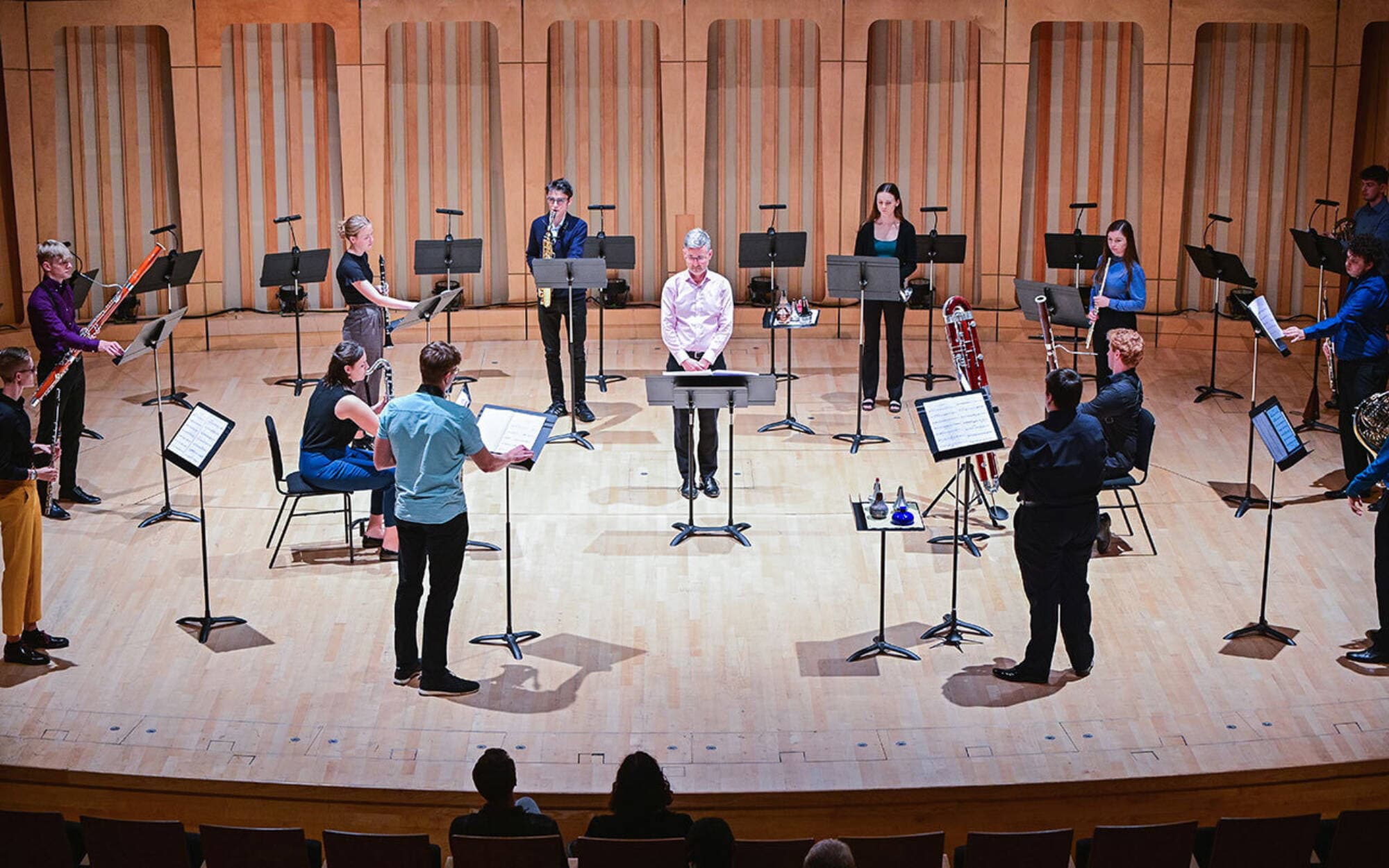 Woodwind
Train under the guidance of distinguished professional musicians from the UK's leading orchestras – all in a supportive environment that fosters your creativity, innovation and collaboration to help you become the best musician you can be.
Why study woodwind at RWCMD?
You'll get a broad range of experience as a soloist, chamber musician and orchestral player through one-on-one instrumental lessons, and tuition in small groups, with plenty of opportunities for performance.
You can study more than one woodwind instrument: if you want to broaden your expertise we offer a multi-instrument pathway.
Collaboration and innovation – We're training musicians to be creative, resourceful and adaptable.
Our focus is on employability: In your tailored performance classes, you'll perform to your peers in a caring and welcoming environment – no matter what your current stage of musical development is. For multi-instrumentalists, doubling class and ensemble provides the opportunity to play on any of your instruments alongside your peers.
You'll also have regular departmental performance classes with professional accompanists led by the head of woodwind performance, renowned clarinettist Robert Plane. These classes offer regular opportunities to play for your fellow students and get constructive feedback from your specialist tutor and classmates.
We have a close partnership with Welsh National Opera Orchestra and BBC National Orchestra of Wales, and many of the professional musicians who teach here are drawn from the woodwind section of these two national orchestras. Other staff also include past or present members of major orchestras from across the UK.
Performance is a huge part of your time here: you can get involved with our many and varied College orchestras, which range from a full symphony orchestra to chamber, light music, opera, contemporary, baroque and wind orchestras. There's also a saxophone choir and two large woodwind chamber ensembles, which play regularly in venues across Wales and England.
Some of the world's finest woodwind soloists and teachers give masterclasses and recitals as part of our concert season in our flagship concert venue, the Dora Stoutzker Hall. Recent visitors include Orchestre National de France clarinettist Carlos Ferreira, oboists Ruth Bolister and the baroque specialist Paul Goodwin, Frankfurt Radio symphony principal bassoon Theo Plath, superstar Welsh flautist and principal of the Royal Concertgebouw Orchestra Emily Beynon, as well as saxophonist Huw Wiggin and all three of his colleagues from the Ferio Saxophone Quartet.
Collaboration forms a huge part of what we do. Students develop their imagination and unique skill sets, as well as their employability, through staff and student-led collaboration across genres and departments – jazz, folk, composition, musical theatre, opera, design and drama.
Multi-instrument pathway: expertise in more than one woodwind instrument
For students who want to broaden their expertise we offer a multi-instrument pathway that encompasses everything from musical theatre to classical to pop.

Under the dynamic leadership of multi-instrument specialists Neil Crossley and Sally MacTaggart, you'll embrace all styles of music and develop a breadth of knowledge that will give you the confidence to play anything placed on the stand in front of you. You'll cultivate the skills and knowledge needed to be a versatile and employable multi-instrumentalist in today's music industry.

On the multi-instrumentalist pathway, you can also work with any of our experts from the woodwind department, and many choose to take lessons with tutors from our thriving jazz department.
Our orchestral woodwind students receive orchestral training and repertoire classes.
We have 'State of the art facilities for double reed making. Our oboe and bassoon students can use our state-of-the-art reed making room, a workshop space stocked with all the latest tools and equipment. We offer free lessons in oboe reed making classes and bassoon reed making.
Led by an acclaimed performer with 20 years' orchestra experience
Robert Plane, head of woodwind performance, is an award-winning musician who was principal clarinet of the BBC National Orchestra of Wales for 20 years.
His hugely varied career has encompassed everything from performing in symphony concerts in the UK, US, South America, China and Europe to performing as a concerto soloist at the BBC Proms, and being solo clarinettist on the soundtrack to Disney's film Maleficent and playing compositions by Steve Reich with Jonny Greenwood from Radiohead.