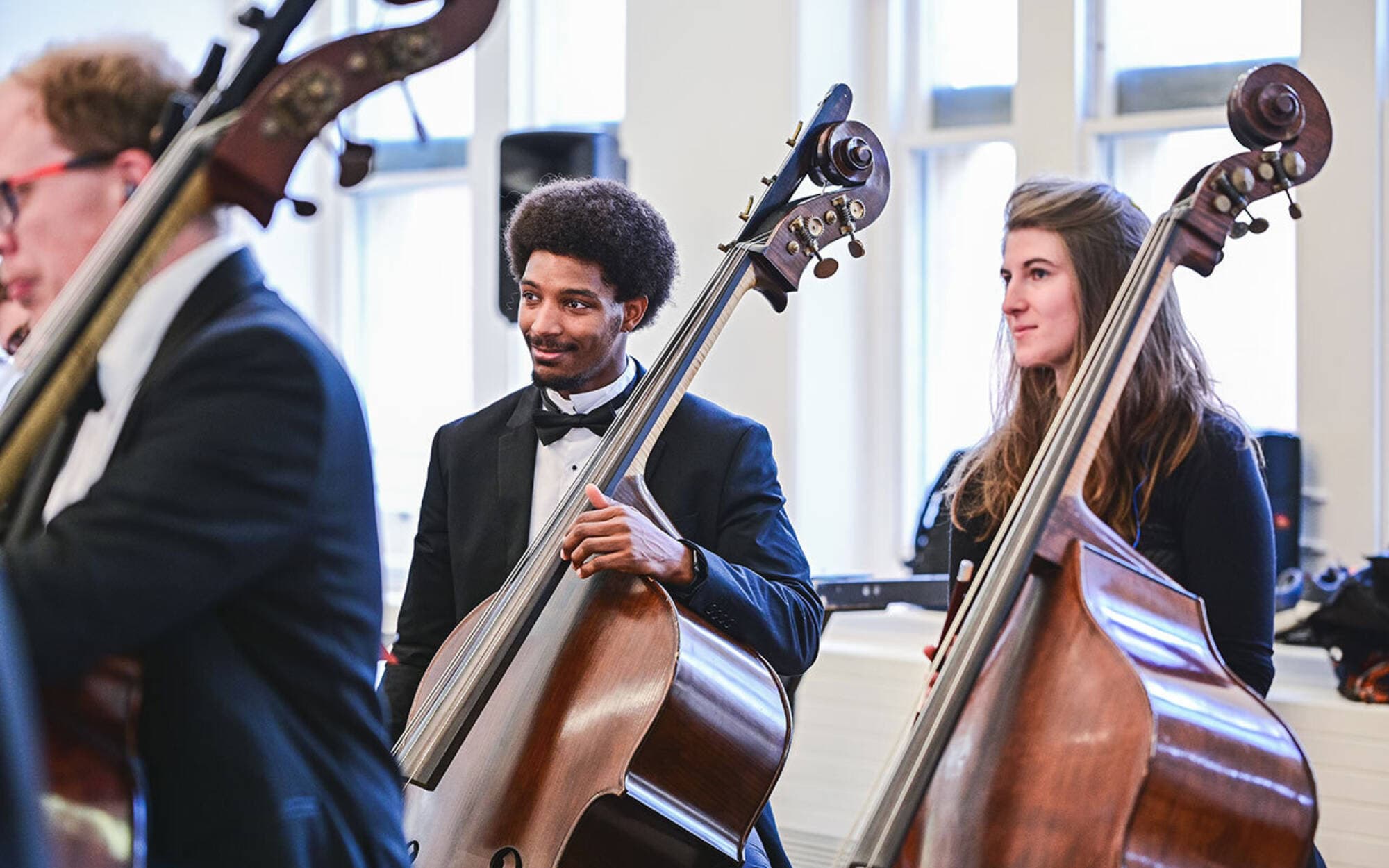 Strings
Take advantage of a wide variety of opportunities to perform, collaborate and experiment – all in a supportive learning environment that builds your professional skills and imaginative approach, to prepare you for a career in the music industry.
Why study strings at RWCMD?
From your very first term here you'll perform and create, in solo, chamber or orchestral projects. You'll explore different stylistic approaches, supported by specialised teachers.
Our unique strings placement schemes, partnering with Welsh National Opera (WNO) Orchestra and BBC National Orchestra of Wales, allows you to audition for placements, leading to mentoring with the principal of each section. These schemes have led to students getting on to the extra lists with both orchestras. WNO and BBCNOW leaders and many principal players also teach here.
You'll learn in small classes and take part in tailored, one-to-one coaching from industry professionals in a highly personalised approach that allows you to develop as a versatile and employable musician. Core strings staff include Lucy Gould, Alice Neary.
You'll be taught by internationally renowned visiting artists, all with contemporary careers performing at the highest level, from all kinds of professional backgrounds including orchestral leaders, chamber musicians and soloists, covering genres from early music to jazz.
Recent visiting artists have included Nicola Benedetti, Rachel Podger, Timothy Ridout, Lawrence Power, Peter Wispelwey and Daniel Muller-Schott.
You will be part of a chamber music ensemble, each with its own mentor chosen from the many chamber musicians on our staff, mentoring and guiding you throughout the year.
Our wide range of orchestral projects, including musical theatre, opera, acting showcases, as well as symphony orchestra and string ensembles, means that you'll be involved in orchestral projects every term.
Historical performance
Our unique approach to historical performance, guided by the expertise of Dr Simon Jones, means that every student has a rigorous training in a variety of historical styles, collaborating with historical keyboard instruments like the harpsichords and fortepianos. Being historically aware and informed is a key part of a string players portfolio and much sought after by ensembles. Every student gets the chance to play the viol and then to take it up as a separate study, giving you an even greater knowledge of the historical perspective.
Teachers include Rachel Podger and Jonathan Manson and recent graduate ensembles include Arculo, formerly The Royal Welsh Consort of Viols.
Led by a musician and lecturer with decades of experience
Dr Simon Jones, Head of the Strings department, is an acclaimed violinist who has performed and recorded internationally as an orchestral leader and chamber musician. He's also an industry professional who has taught instrumentally and as a university lecturer.
His combined professional experience, spanning more than 30 years, has allowed him to shape a programme that equips students with the skills to become inventive, adaptable and employable musicians.