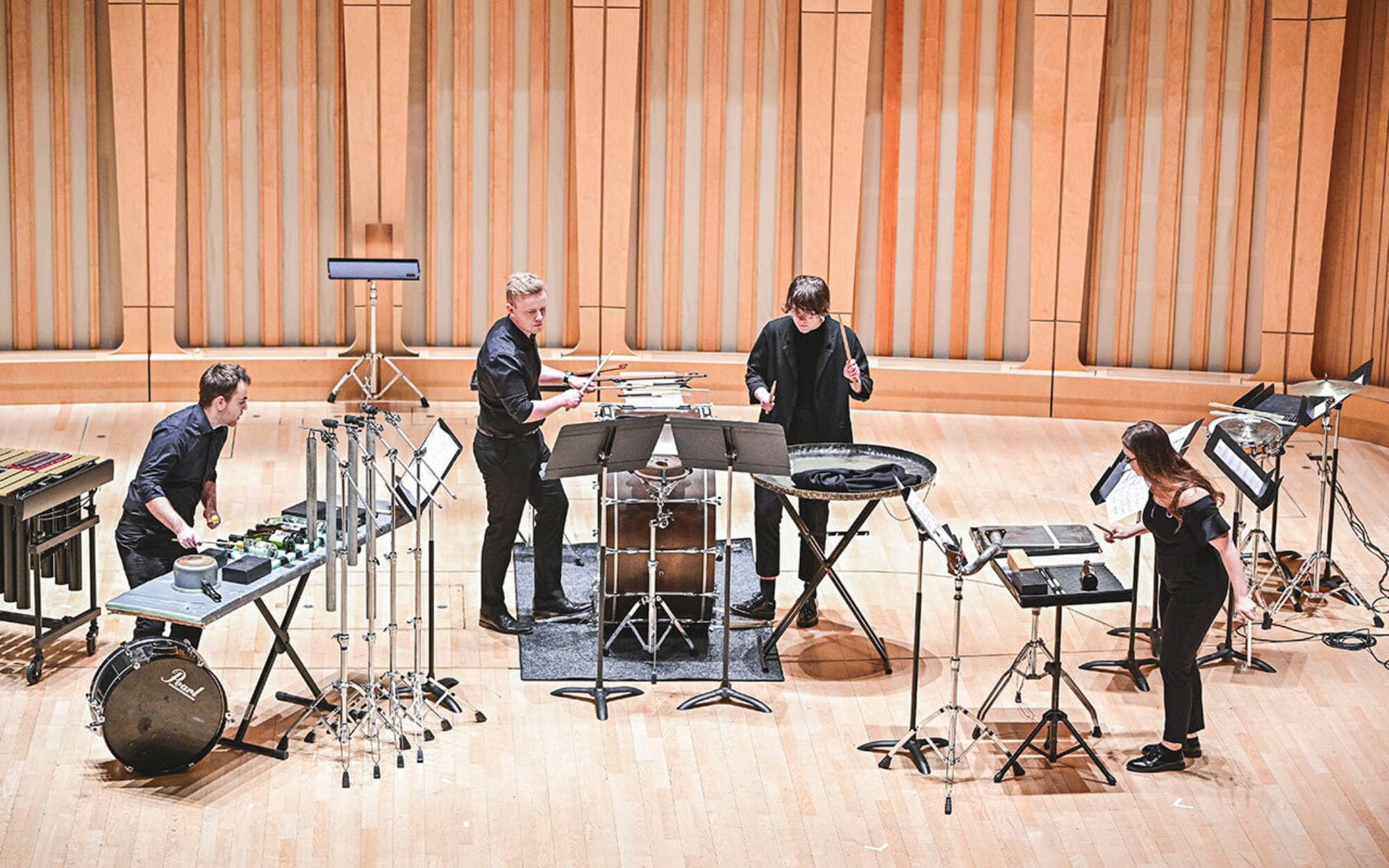 Percussion
Push your boundaries with expert-led, intensive training in solo, orchestral and ensemble playing that evokes a spirit of creativity and collaboration. The central ethos of the department is team spirit, unity and collaboration, working alongside the teachers as fellow professionals.
Why study percussion at RWCMD?
Immersion in professional culture and industry links: you'll be treated as a professional from day one. Opportunities include the chance to audition for placement schemes with BBC National Orchestra of Wales (BBCNOW) and Welsh National Opera (WNO), working alongside professional musicians.
The nurturing department means the focus is on your particular interest and exploration. Inspirational head of department, Patrick King will explore all career paths ; Community music making, teaching and other aspects of music are given equal billing with the more traditional career paths.
Diversity of repertoire, which includes studying with Dan Ellis, one of the leading West End and commercial percussionists, Sidiki Dembele, one of the most exciting collaborative world percussionists, and tutor Owen Gunnell who has one of the most diverse percussion careers, from his percussion duo O Duo, the Colin Currie Quartet and freelancing with all the major UK orchestras.
You can gain valuable skills and experience through our active outreach programme, looking outside your own focused training to provide educational workshops to local schools and community groups, leading and mentoring the next generation.
A career in percussion isn't just about getting into an orchestra. Employability is built into the course and our teachers are industry leaders representing the many different avenues of a modern career e.g. Matthew French, West End drumkit player.
Through individual lessons with our acclaimed teaching staff, you'll develop a sound technique in timpani and percussion playing, as well as a thorough understanding of the orchestral repertoire.
Your repertoire sessions will take the form of mock auditions or orchestral technique classes under the guidance of Henry Baldwin, section principal percussionist Royal Opera House, Covent Garden.
Performing is a fundamental part of your course: You'll be a member of our percussion ensemble where you'll perform at the College and at external venues in Cardiff and beyond.
All of the percussion places in our many different College ensembles are held by the students in our department, giving you additional performing experience and a chance to really hone your craft.
You'll have regular masterclasses and workshops with distinguished visiting artists from around the world who you can learn from and perform with. Previous masterclass artists include Toby Kearney, Matt King, Steve Whibley, Chris Ridley, Sam Walton and Steve Quigley. Our relationship with Colin Currie has seen students perform with Colin and also in concert with the Colin Currie Quartet.
We offer additional one-to-one tuition in drum kit and specialist group sessions in Latin American percussion. Dan Ellis and Sidiki Dembele complete the teaching staff, offering tuition in commercial and world percussion.
We constantly review and update our comprehensive range of percussion instruments, which include a new five octave marimba and German calf-headed timpani.