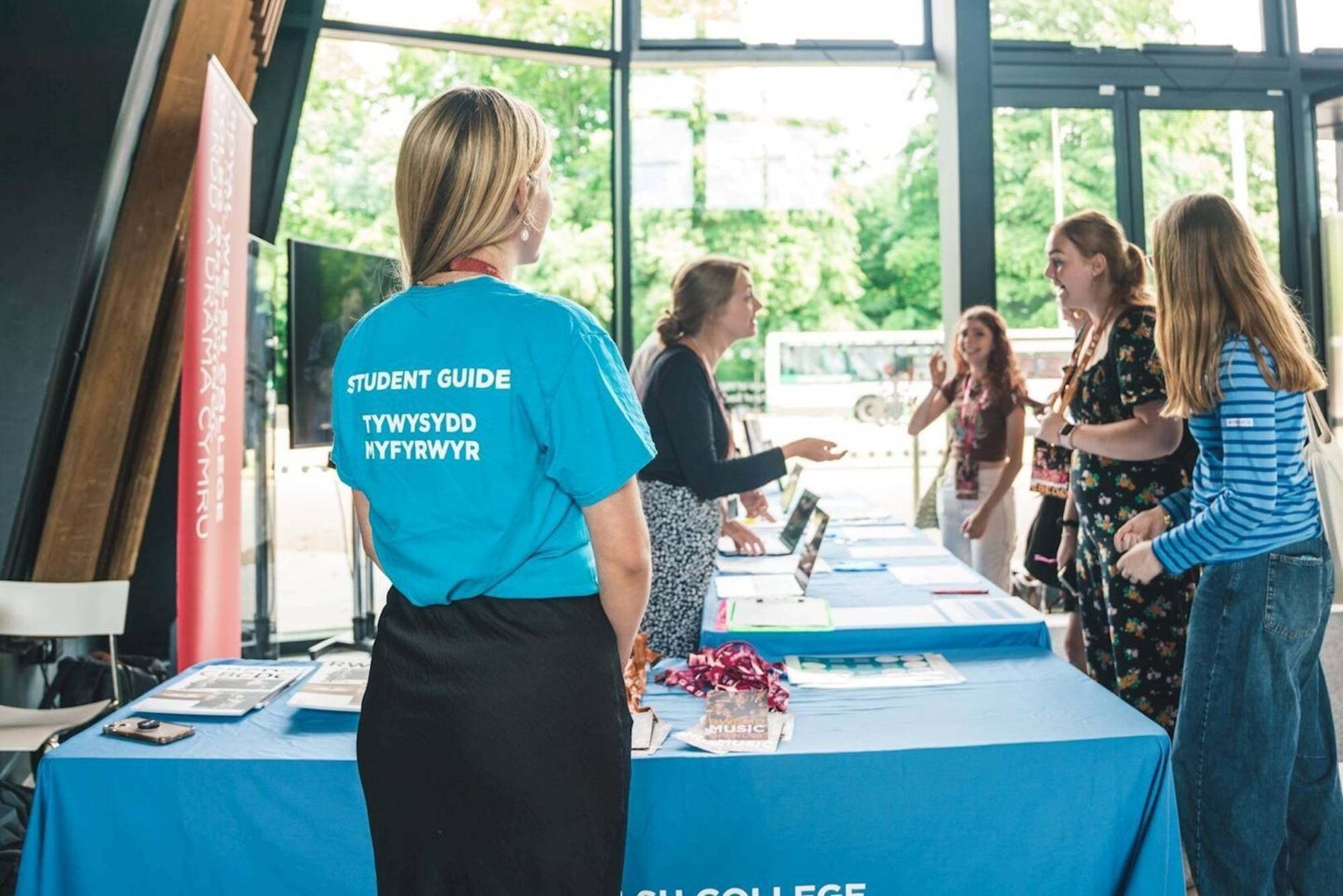 Open days
Join us for an open day at the Royal Welsh College of Music & Drama. Learn about the College, explore our campus, meet our staff and students, and experience what it's like to study and live in the vibrant city of Cardiff.
Explore a community of music & drama
---
Our open days are designed to provide you with the perfect opportunity to experience our College and soak up the atmosphere of our building, which is not only a leading music and drama conservatoire but also a vibrant arts centre staging 500 performances a year for the public. 
Come and explore our campus, meet our friendly staff and students, and experience what it's like to study and live in the vibrant city of Cardiff. 

Discover the opportunities awaiting you
Register for an upcoming open day
We look forward to welcoming you to our open day and giving you a glimpse of what it's like to be a part of the Royal Welsh College of Music & Drama community. 
The majority of our open days are held in-person but we do occasionally offer virtual events for some courses.

Future open days
BMus open days for entry 2024/2025 will be in June/July 2024 – To receive information join our mailing list.
Acting, Musical Theatre & Postgraduate: Please join our mailing list for possible online info sessions at the start of 2024.
BA (Hons) Design for Performance, BA (Hons) Stage Management & Technical Theatre, Foundation of Scenic Construction and Foundation of Scenic Arts: October 2024
Postgraduates: Please get in touch to arrange a visit. info@rwcmd.ac.uk

Online information sessions for Design
Sean Crowley, Director of Drama, will be holding online information sessions on the Design courses at RWCMD in December 2023.
He will also be offering the opportunity for design applicants to meet with him at this years Linbury Prize exhibition at the National Theatre in London, on the 20th & 21st of January 2024.
Please register your interest by clicking the links below:
Virtual open days
Missed an open day or want to learn more about the course? Why not visit one of our virtual open days below.
Why attend an open day?
We want to support you in making an informed decision about where you want to study. At our open days, you will be able to:
Take a tour of our beautiful campus, including our state-of-the-art performance spaces and modern halls of residence.
Chat with our heads of department and course leaders, who can give you valuable insight into our courses and answer any questions you may have.
Meet current students who are studying the same course as you, and learn more about their time at College.
Find out more about our tuition fees and the financial support available towards your studies.
Learn more about how our in-house wellbeing support services can support you while you are studying with us.
Get a better understanding of our audition and application process, so you can be fully prepared and confident in your application.
Take some time to explore the vibrant city of Cardiff, which offers a unique blend of history, culture, and entertainment, and has been named the UK's least expensive student city in the Natwest Student Living Index 2022.
State of the art facilities
Reasons to study with us
Our thriving, multicultural institution welcomes 800 students from more than 40 countries. You'll train side-by-side with other instrumentalists, actors, singers, composers and performance designers and will work with them on projects throughout the year.
Collaboration forms a huge part of what we do, allowing you to immerse yourself in new experiences with a broad range of disciplines and skills from across the college. Our unique student-led company REPCo, encourages students to work together to be bold, imaginative and entrepreneurial.
Our industry partnerships provide real-world, enhanced learning experiences with leading arts organisations and professional musicians, also offering you opportunities to build your future professional networks.
RWCMD is a vibrant arts centre staging 500 performances a year (many of which are free) which are a combination of world-leading artists and student work, often side by side. Regular major events at RWCMD include BBC Young Musician of the Year, and BBC Cardiff Singer of the World and standalone events such as the World Harp Congress in July 2022.
The College is the first UK conservatoire to achieve a gold standard level of quality assurance across Music, Drama and Under 18s in the recent international MusiQuE, Music Quality Enhancement review. Reviewers were particularly impressed with the College's approach to the individual student experience, multidisciplinary collaboration, and overall ambition, citing RWCMD as a shining example of best practice across European conservatoires, and reflecting the College's exceptional people and unique community.
As the world's only Steinway-exclusive conservatoire the College now has a world-leading fleet of pianos, and every acoustic piano at the College is a Steinway.
We fundamentally believe in the power of music to transform and enrich society, developing skills in teaching, coaching and co-creating projects to create musicians of the future who will make an impact as performers, teachers and enablers within the broader community. Fundamental questions - 'How can we shape the industry of the future', 'How can we use art to make a difference' - help us to produce musicians who are truly relevant to a 21st Century world.
You'll practice, study and perform in a beautiful, inspiring setting, bordering Bute Park, one of the largest green spaces in the city. We have a chamber music hall with extraordinary acoustics, a glass-lined foyer and performance space, the Richard Burton Theatre, as well as state-of-the-art studios and rehearsal spaces.
Our campus is right in the centre of Cardiff, the UK's first Music City, and the thriving, compact capital of Wales, which is only two hours by train to central London.
Cardiff was named as the most cost-effective city in the UK for students, according to the NatWest Student Living Index 2022.
What our students say
'What I love about Cardiff and the College is that it's a really inclusive place to study, which has helped me to feel comfortable being open about my identity. I'm so proud to be part of a College and a city where I feel diversity is embraced, where I can be free to truly be myself, and where my gifts and talents are recognised and celebrated.'
'What swung my decision to come to College was actually my audition day! I remember leaving the building feeling so happy and excited by the prospect of going there. There's just nowhere like it.'
Allow Embed Social content?
This content is provided by Embed Social. We need to ask for permission before viewing as they may be using cookies and other technologies to collect and process your personal data. For more information, please read their privacy policy , cookie policy. To view please accept below.
Allow Embed Social content?
This content is provided by Embed Social. We need to ask for permission before viewing as they may be using cookies and other technologies to collect and process your personal data. For more information, please read their privacy policy , cookie policy. To view please accept below.
Sign up to receive our latest updates
An email asking you to confirm your address will be sent. Please check your spam / junk folder if the email doesn't arrive within a few minutes.
The College takes the protection of all personal information seriously and is fully committed to the protection of the rights and freedoms of all individuals. We will process your data according to our privacy statement, which you can read at https://www.rwcmd.ac.uk/privacy