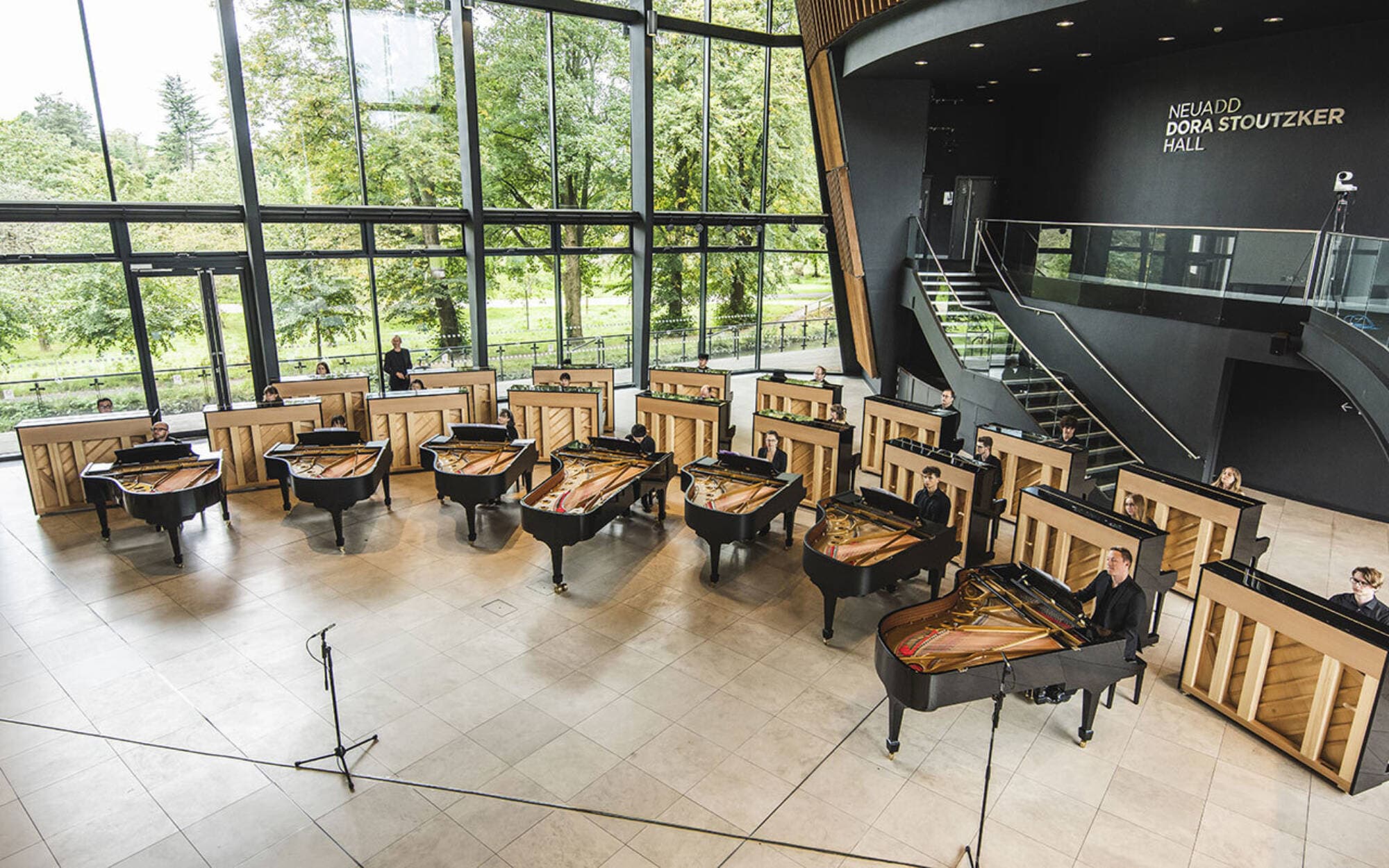 Piano
Delve into a rigorous curriculum that offers a mastery of keyboard technique, performance opportunities and the practical skills to succeed in today's music industry.
Why study keyboard at RWCMD?
You'll cultivate an in-depth knowledge and understanding of piano repertoire through one-to-one training with a principal study tutor and in regular performance workshops with other pianists. With small class sizes you'll receive highly personalised support and attention from all our staff at the College.
We prioritise collaboration in all its forms, shaped by the belief that we learn best when we feel empowered to contribute, take risks, support and challenge each other.
You'll also take part in performance workshops, skills classes (including sight-reading and improvisation), innovative study projects, ensemble coaching, historical and contemporary performance, and a full range of classes in supporting musical studies, all led by international experts in different fields.
You'll have regular masterclasses with some of the world's most renowned pianists, performing here as part of the prestigious annual Steinway International Piano Series. Recent artists include Angela Hewitt and Pavel Kolesnikov, and our Artist-in-Association Llyr Williams gives regular recitals and masterclasses.
There will be opportunities to engage with professionals from diverse industry backgrounds, including pianists from Welsh National Opera (WNO) and the Royal Ballet, as well as practitioners of church music, jazz, music theatre and orchestral performance.
You'll gain practical experience of all the essential skills involved in teaching and inspiring the next generation of pianists.
Play in a varied programme of recitals and collaborative performances, often in our Dora Stoutzker Hall, the first purpose-built chamber music recital hall in Wales and one of the best in the UK.
We're the first Steinway-Exclusive Conservatoire in the world, and the first conservatoire in the UK to have two Steinway Spirio pianos, giving you a unique opportunity to discover everything this revolutionary technology has to offer.