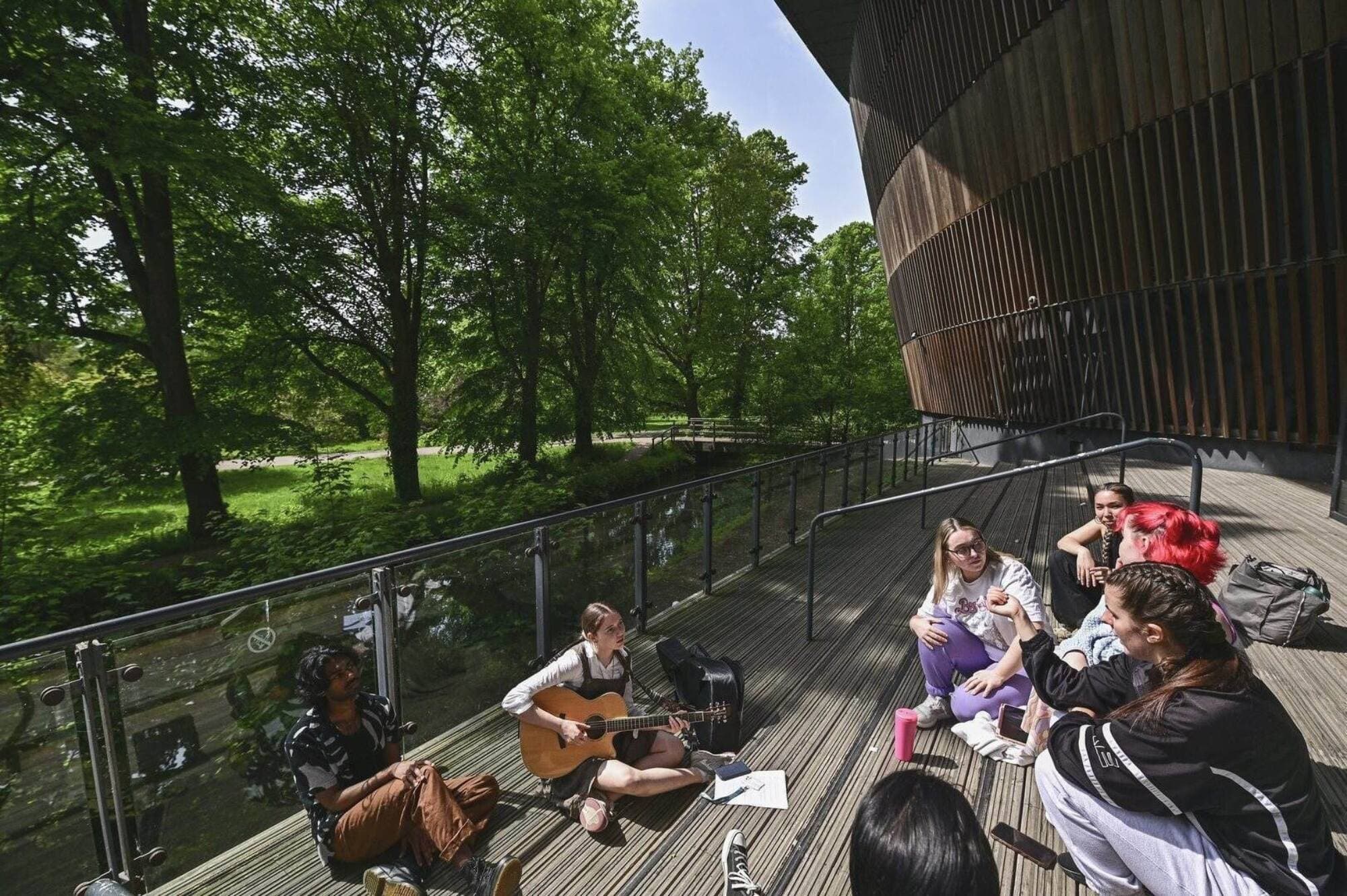 Students' Union
The Royal Welsh College Students' Union (the SU) is a place to relax, unwind and have some fun. With its own dedicated space in the heart of the main campus, there's a variety of activities and societies for you to enjoy.
Your union
From society nights, Live Music Thursday and a weekly quiz to a space to eat your lunch and have a cuppa with your friends, the SU provides a safe space for ALL our students.
How do we do this?
The purpose of the union is to advance student education for the public good.
We do this by:
Promoting the interests and welfare of students during their studies and representing, supporting, and advising Students.
Being the recognised representative channel between Students and the College along with any other external bodies.
Providing social, cultural, sporting and recreational activities, forums for discussions and debates for the personal development of its students.
Fostering and encouraging freedom of speech, taking measures to encourage and build a student community which celebrates the diversity of its members.
All students of RWCMD are automatically members of the Students' Union unless they choose to formally opt out of membership.

Community
Being a student on a great course at a fantastic conservatoire is crucial: but so too is embracing all the opportunities which will come your way while you are a student.
Although your main focus is your course (we hope), it's also essential that you are able to enjoy events that aren't linked with your course. Here at the SU, we believe that hard work pays off, however, there is an equal need to be able to enjoy downtime away from your course.
You might want to play for our sports clubs, take part in a fitness class, join one of the society groups, or become involved in the workings of student performances and festivals - whatever you do, you will be embracing a holistic student experience and adding value to your time here.

Societies
RWSU has so many societies for you to get involved in ranging from Football Society to Coffee Society and everything in between.
Societies are a great way to try something new and mix with people from the whole college, not just your department. Some societies have been running for years and have become a tradition…such as the football team and their annual Music vs Drama game and weekly fitness classes.
Having over 800 students, we are not a large Students' Union, but we are incredibly supportive and eager to cater for your interests. Below is a selection of the societies we currently support. If you have any ideas and don't see something you'd be interested, just come and have a chat with us, we are here to help you.