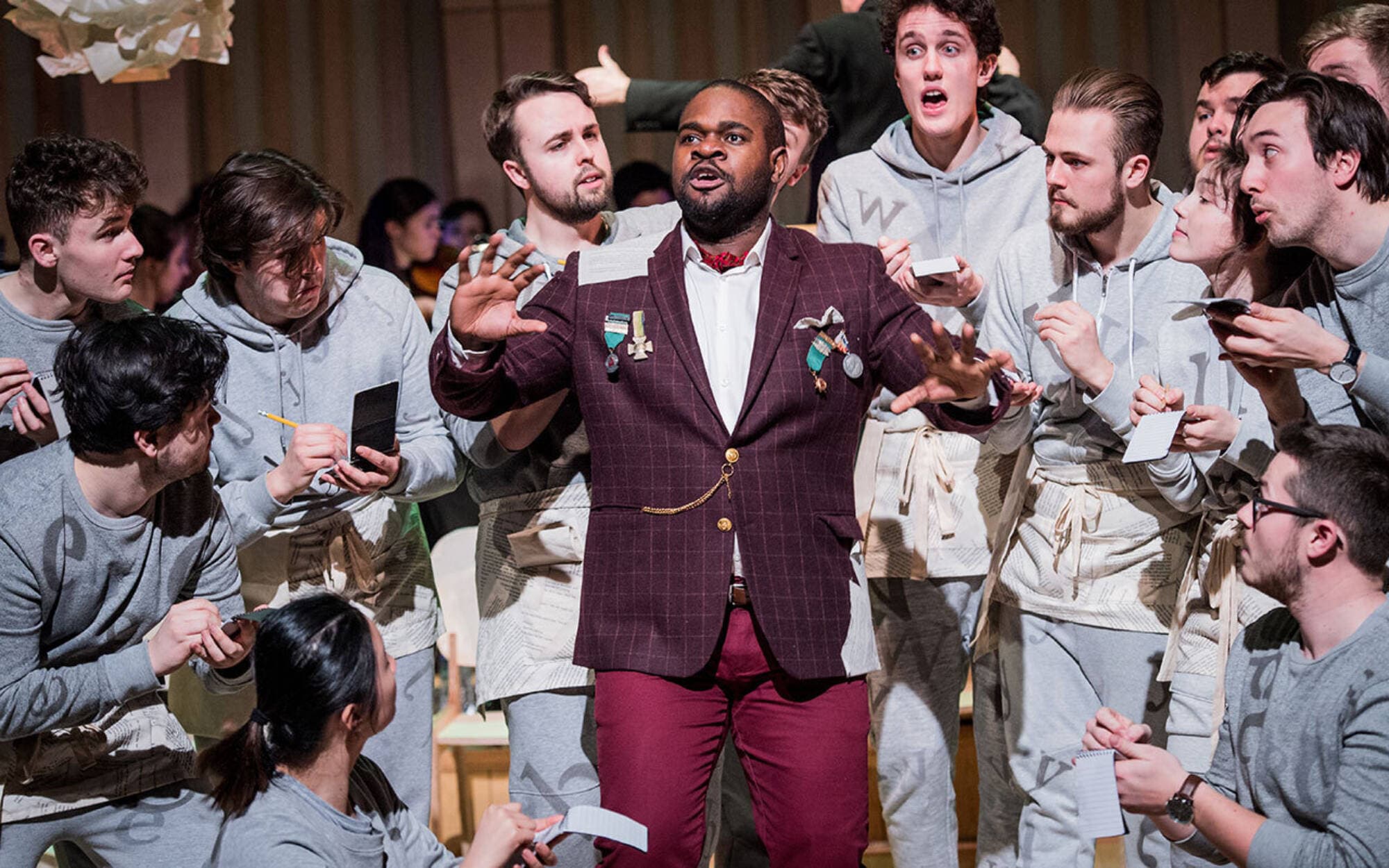 Vocal
Work with industry-leading performers and vocal coaches to become the best singer you can be, while learning all the skills you need to thrive in the professional world.
Why study vocal at RWCMD?
You'll work closely in one-to-one lessons with distinguished singers and coaches who offer a broad selection of teaching styles.
You'll develop your other essential skills through study of language, music, movement, acting and stagecraft.
You can take advantage of performance opportunities through the BBC National Orchestra and Chorus of Wales placement programme, Welsh National Opera Youth Opera Young Company and the student-led arts company REPCo programme.
WNO is on our doorstep and students are invited to intend all company dress rehearsals.
Our vocal training is informed by the most up-to-date professional standards, thanks to our close partnerships with individual artists and some of the UK's leading opera companies such as Scottish opera, Opera North and the Royal Opera House.
Masterclasses and workshops are an integral part of all courses. Recent and regular visitors include Susan Bullock, Joyce El-Khoury, Elizabeth Llewellyn, Gwyn Hughes-Jones, Malcolm Martineau, Carlo Rizzi and Simon Lepper.
You can take advantage of the many opportunities to collaborate across the College departments, such as keyboard, choral conducting, historical performance, composition and contemporary music. Our opera productions also provide you with opportunities to work alongside our acclaimed production and design departments.
Working with our Head of Movement Struan Leslie, among others, you'll have sessions in movement for singers, focusing on physicality and performance skills.
As a singer, developing fluency in language is particularly important and you'll have weekly classes on the grammar and structure of each of the singing languages: Italian, German and French.
You'll develop essential collaborative working skills through ensemble projects such as children's opera, musical theatre, devising your own opera scenes and voice and piano duo work.
Diverse range of career paths
Training as a singer develops many transferable skills which can lead to a diverse range of career paths.
RWCMD opera graduates can currently be seen with English National Opera (ENO), Welsh National Opera (WNO), Scottish Opera, Opera North, Glyndebourne, as well as with opera houses throughout Europe and North America.
Some have continued their studies at the National Opera Studio and Jette Parker Artists Programme at the Royal Opera House.
Led by performer and coach Mary King
Mary's career has encompassed a wide range of roles, including that of performer, teacher, coach, broadcaster and writer. Mary is a popular and highly experienced mezzo soprano and has worked with leading conductors and numerous orchestras across the world.
She has made a particular feature of the contemporary classical repertoire.
Mary's experience of leading organisations focused on the training of young singers. She has taught on the English National Opera's Knack course, Southbank Centre's Voicelab and the Glyndebourne Academy. Equally at home in Musical Theatre, she teaches in this discipline at the Royal Academy of Music, Arts Ed and is a vocal consultant for several West End shows.
She is also a regular broadcaster on both radio and television and she co-wrote The Singer's Handbook, published by Faber.