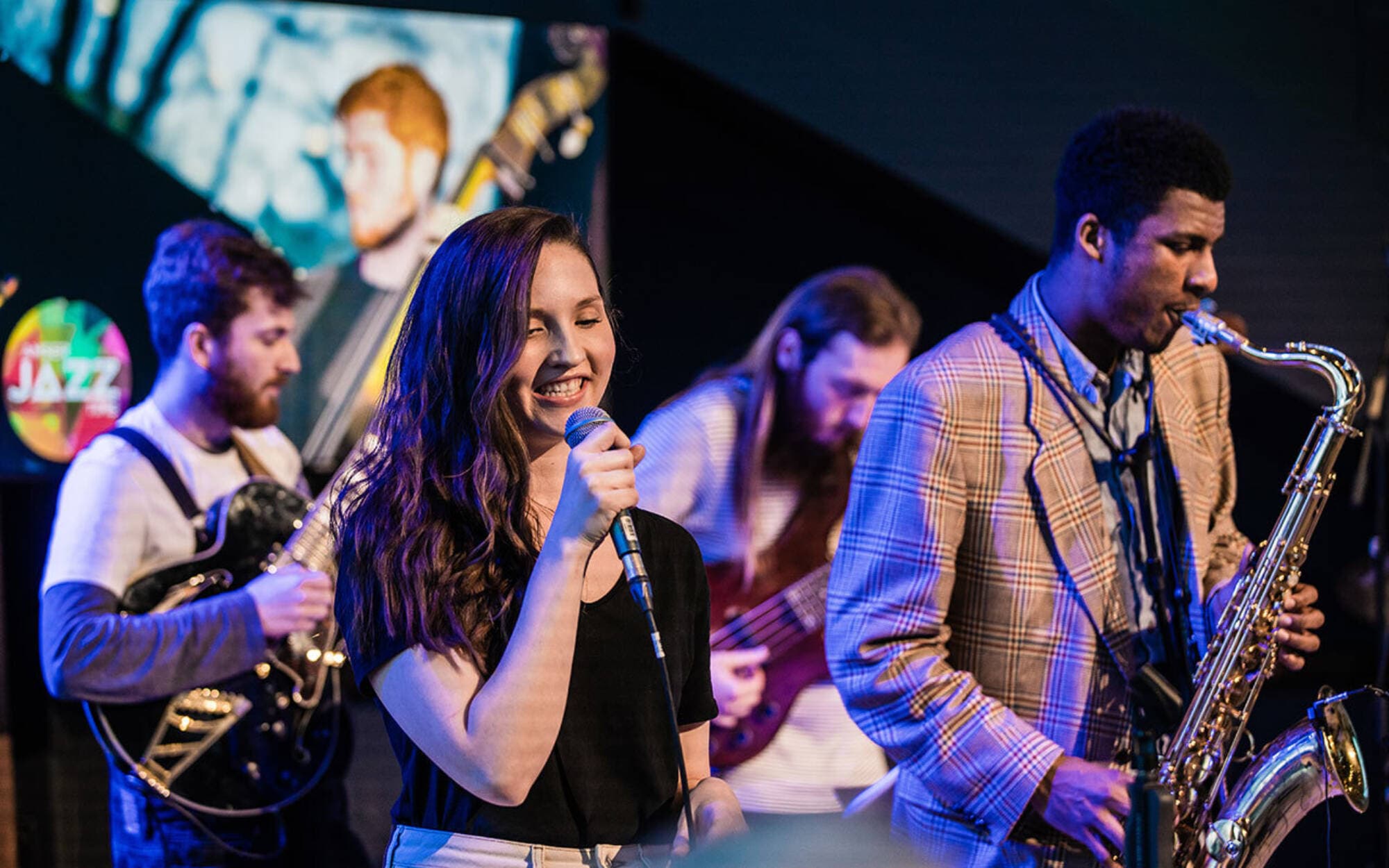 MMus Collaborative Creative Practice
Award:

MMus Collaborative Creative Practice

Awarding body:

University of South Wales 

Location of study:

Cardiff (RWCMD, Llanishen Studios and Old Library)

Start date:

22 September 2024

Duration:

2 years full time

Course code:

829F - UCAS Conservatoires
Introduction
---
Devise exciting new work with fellow collaborative artists in our course that combines specialist tuition in both drama and music.
Course overview
Drama and music come together in our innovative master's course that offers musicians and composers a deep understanding of the connection between both art forms.
Our first formal joint teaching programme between our music and drama departments, it centres on creating new work that responds to situations and opportunities as they arise. You'll be engaging the public with – and through – your work.
In discussion with senior members of staff, you'll identify the study path that allows you to strengthen your unique skill set. Then, through classes and projects, you'll take part in cross-disciplinary collaborations, learning how to work with your fellow students and appreciate each other's art forms.
Alongside maintaining an advanced level of musical study, you'll be guided in your collaborations by experienced professionals, learning first-hand the dynamics of creative teams and artistic leadership.

Why study this course?
You'll have one-to-one specialist tuition (which we call 'principal study') with expert tutors who are industry professionals. They'll help to enhance your individual technique and artistry, whether you're focusing on performance or composition.
Your principal study is supported by cross-disciplinary classes and project work, workshops, masterclasses and ensemble performances. The goal is to balance your individual artistic and creative development with a range of music activities.
Aside from training with your principal study tutor, you'll work with renowned instrumental and vocal soloists and chamber musicians, distinguished coaches, prominent composers, conductors and creative artists in a range of genres – plus principal players in major orchestras and ensembles. They offer you not only first-rate teaching, but mentorship and networking opportunities as well.
You'll have the freedom to shape your core modules to match your skills and career ambitions. And you'll also have a certain degree of flexibility in some modules' assessments, allowing you to test your knowledge in a way that suits you.
As part of your course, you'll also create and curate your own performance projects, which will allow you to conduct more detailed research into areas that interest you.
You'll be involved in group work with drama students, creating projects of different sizes and styles. Learning to work together, you'll discover each other's artistic skills and viewpoints, and respond to constructive feedback. You may also be invited to join drama or music productions.
We have close ties with a range of leading arts organisations, which open up opportunities for networking and building your list of contacts, which are crucial to laying the groundwork for a career in the industry.
You'll be invited to join performance or composition activities, which will allow you to practise the art of performance, growing your specialist skills and stamina, developing awareness of professional protocols and enhancing your communication skills.
You can also join chamber music and ensemble performance projects. A wide range of ensembles are available, including orchestral, band, choral and operatic.

For half of your second year, you'll focus on developing professional projects – tied to real-world experiences – which can increase your employability after you graduate. Areas you can focus on include research, teaching, community music, collaborative creative practice, composition and digital artistry. You'll also have a specialist mentor alongside you, who will offer insight and help to widen your network of industry contacts.

You'll take part in masterclasses with renowned artists who visit the College every year as part of our performance programme.
You'll have seminars that examine key elements of developing and sustaining a successful portfolio career – such as networking, social media, tax and finance, funding applications and establishing yourself as an independent artist.
You can take part in a series of cross-departmental performance seminars led by our music staff. These seminars investigate areas such as performance resilience, maintaining an effective practice regime and memorisation techniques.
'Wales is a place of such creativity that sees the arts as something for everyone to take part in. That ethos is a part of the College and sets it apart.'

Errollyn Wallen

Composer and RWCMD Artist in Residence
Sign up to receive our latest updates
An email asking you to confirm your address will be sent. Please check your spam / junk folder if the email doesn't arrive within a few minutes.
The College takes the protection of all personal information seriously and is fully committed to the protection of the rights and freedoms of all individuals. We will process your data according to our privacy statement, which you can read at https://www.rwcmd.ac.uk/privacy