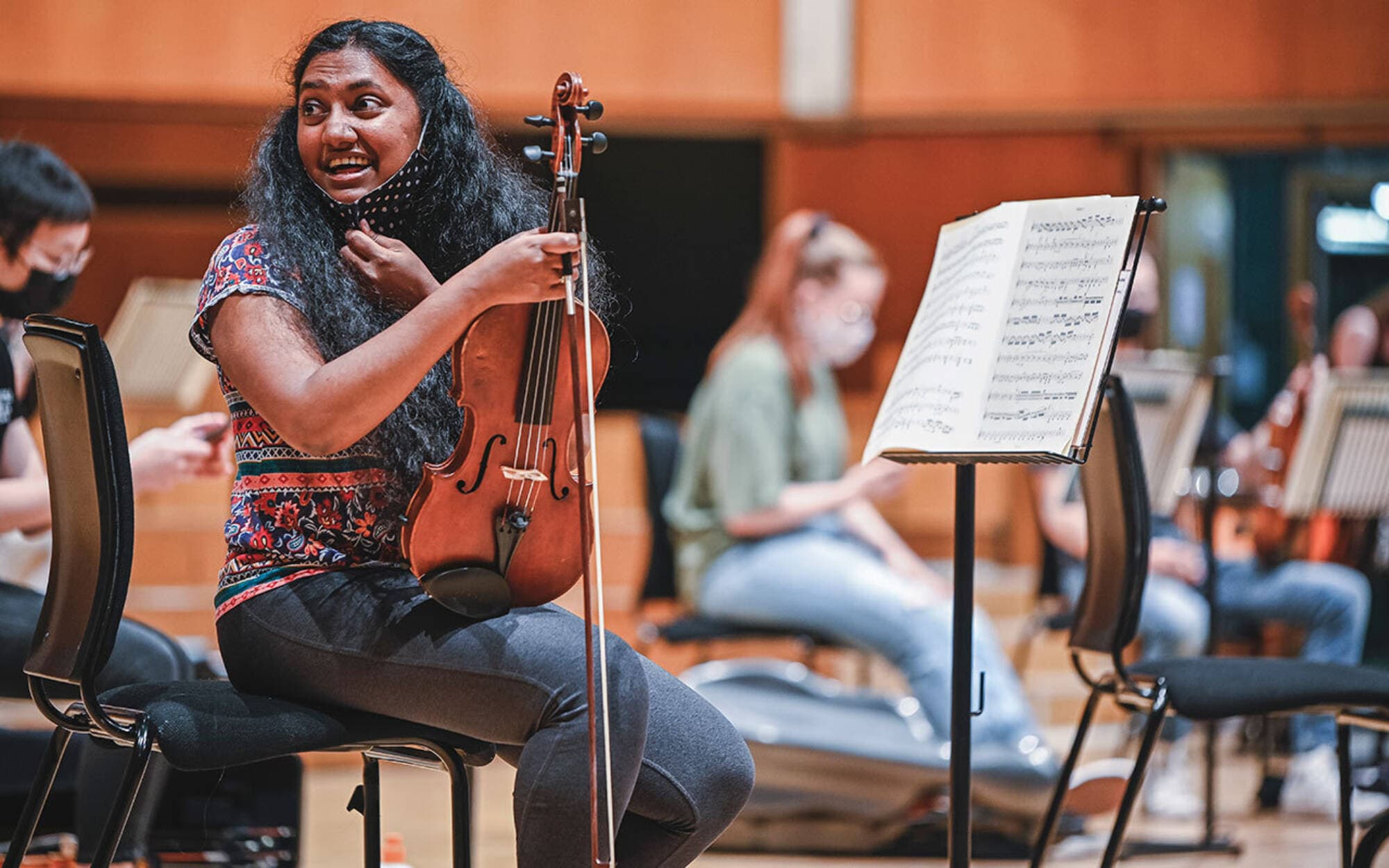 MMus Chamber Music Performance
Award:

MMus Chamber Music Performance

Awarding body:

University of South Wales 

Location of study:

Cardiff (RWCMD) 

Start date:

22 September 2024

Duration:

2 years full time

Course code:

828F - UCAS Conservatoires
Introduction
---
With our collaborative, industry-led course, you'll develop all the practical, creative and artistic skills necessary for a career as a chamber musician.
Course overview
Immerse yourself in our creative, inspiring environment, where you'll learn to perform in chamber music with confidence, style and authority.
As part of your course, you'll form ensembles that allow you to study the repertoire that best supports your musical and technical development. It's not a one-size-fits-all approach – you'll explore a range of styles, genres and combinations to suit your interests and career ambitions.
One-to-one tuition – which we call 'principal study' – forms the heart of your development as a performer. You'll train with renowned chamber music experts, who are still active in the industry, and they'll guide you to becoming the best musician you can be.
Aside from your practical training, you'll also focus on your employability while you're here. You'll develop your own professional projects, with the support of a specialist mentor, and these will use your talents and skills in a real-life context.
And our close partnerships with renowned arts organisations means you'll start building a network of industry contacts – crucial for laying the groundwork for a successful music career.
Why study this course?
Your specialist tuition will be varied and comprehensive – your principal study classes and chamber music coaching will be supported by practical classes and performance activities, where you'll regularly receive constructive feedback from your teaching staff and peers.

Our impressive list of tutors includes renowned instrumental and vocal soloists and chamber musicians, distinguished coaches, prominent composers, conductors and creative artists in a range of genres – plus principal players in major orchestras and ensembles. They offer you not only first-rate teaching, but mentorship and networking opportunities as well.
Your tutors will also guide you in repertoire choices that will build your artistic, technical and ensemble skills, covering as wide a range of repertoire as possible.
You'll have a dedicated series of chamber music performance classes, which will allow you to work in detail on the finer elements of collaborative musicianship. They'll cover areas such as rehearsal techniques, ensemble sound, listening skills and verbal and non-verbal group communication.

You'll also get opportunities to collaborate with students on your course and those from our drama departments. This cross-disciplinary approach helps to broaden your artistic horizons and build partnerships that last long after you graduate.

You'll have masterclasses with visiting professional artists, who will offer crucial guidance in taking your creative and performance skills to the highest level.

Our close partnerships with leading arts organisations mean you'll have opportunities for networking while you're here.
You'll also create and curate your own performance projects, helping you to spark your entrepreneurial spirit – an essential skill for musicians working today.

Our courses offer core modules with a certain degree of flexibility in the assessments wherever possible. And these can be focused on your desired learning experience.
Half of your second year will centre on developing professional projects, which have ties to real-world experiences, increasing your employability after you graduate. Areas you can focus on include research, teaching, community music, collaborative creative practice, composition and digital artistry.
You'll also have a specialist mentor, who will help to widen your network of industry contacts.
You can join our course as a member of an established chamber group, or you can choose to form different ensembles according to the repertoire you'd like to cover.
'RWCMD has its own unique stamp, and you feel that as soon as you walk into the building. What's particularly striking is its openness, and I think that is because of the real commitment from staff and students to exchange knowledge in an atmosphere of tremendous support. You can see how the students would carry that through into their professional lives.'

Errollyn Wallen

Composer and RWCMD Artist in Residence
Sign up to receive our latest updates
An email asking you to confirm your address will be sent. Please check your spam / junk folder if the email doesn't arrive within a few minutes.
The College takes the protection of all personal information seriously and is fully committed to the protection of the rights and freedoms of all individuals. We will process your data according to our privacy statement, which you can read at https://www.rwcmd.ac.uk/privacy