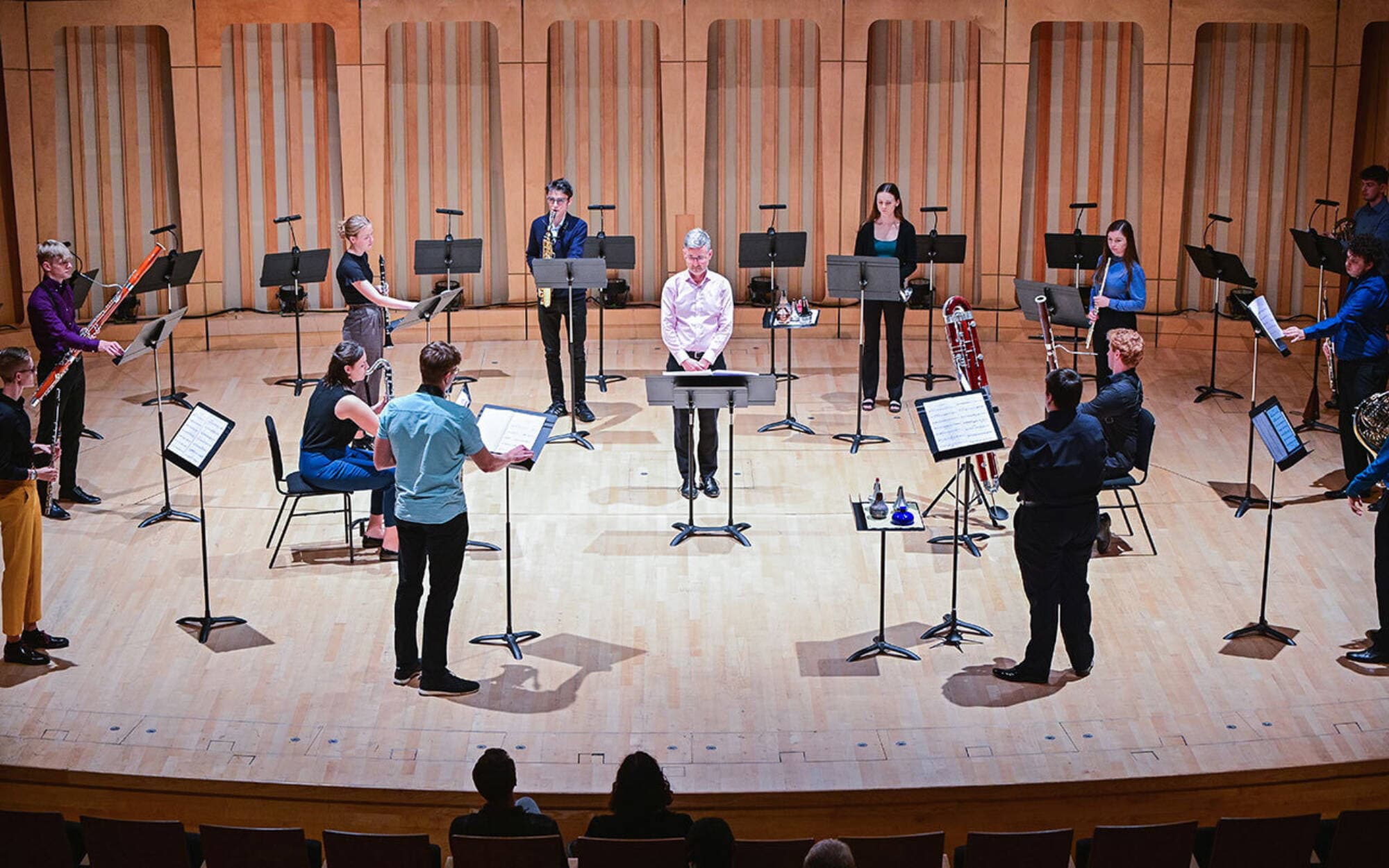 MMus Multi Instrument Woodwind Performance
Award:

MMus Multi Instrument Woodwind Performance

Awarding body:

University of South Wales 

Location of study:

Cardiff (RWCMD and Old Library) 

Start date:

22 September 2024

Duration:

2 years full time

Course code:

821F - UCAS Conservatoires
Introduction
---
Learn to confidently perform with a variety of woodwind instruments in a musical theatre setting, with industry specialists and expert musicians to guide you.
Course overview
Our course gives you the freedom to fully immerse yourself in the world of musical theatre. With hands-on experience and expert teaching, it helps you build the confidence to perform West End repertoire with style and authority.
One-to-one tuition on the flute, clarinet and saxophone form the foundation of your development as a performer. Taught by highly respected experts – who enjoy a busy professional career – you'll build your artistic and technical skills across all three instruments.
You'll also have hugely varied ensemble rehearsal and performance opportunities as part of the theatre productions that take place during the academic year. And with it comes the chance for you to gain crucial, hands-on experience to work with different professional musical directors.
Building your network of industry contacts, preparing you for auditions and improving your entrepreneurial skills are also crucial to your study. You'll get opportunities to sit in on professional productions, giving you a behind-the-scenes look at how these performances operate.
You can also attend seminars that examine key elements of developing and sustaining a portfolio career, equipping you with the critical employability skills to pursue your creative path after graduation.

Why study this course?
Your tuition will combine various teaching methods and settings to give you a comprehensive learning experience. You'll have one-to-one lessons (which we call 'principal study') in flute, clarinet and saxophone. But you'll also take part in specialist, advanced performance classes, as well as professional coaching sessions, workshops and performance activities.

You'll train alongside our impressive list of tutors, who are renowned instrumental and vocal soloists and chamber musicians in a range of genres – plus principal players in major orchestras and ensembles. They offer you not only first-rate teaching, but mentorship and networking opportunities as well.
Your repertoire classes will be led by musical theatre specialists, who can provide professional guidance and insight into the industry.
Our diverse range of modules across different College departments means you can shape your study to suit your interests, strengths and career ambitions. With some modules, you'll have a certain degree of flexibility in the assessment format, allowing you to test what you've learned in a way that suits you.
​​We have close ties with leading arts organisations, providing you with opportunities to network and build your list of industry contacts – which can be crucial to establishing a successful portfolio career.
Across the academic year, you can take part in musical theatre ensemble rehearsal and performance opportunities. These will allow you to practise the art of performance, building your skills and stamina and developing your awareness of professional protocols.
You'll also get chances to collaborate with students on your course – and those studying on our drama courses too. It allows you to not only expand your knowledge in lesser-known areas, but also foster creative partnerships that can last a lifetime.
You'll also have the opportunity to create and curate your own performance projects, allowing you to conduct more detailed research into areas that interest you and align with your career goals.
You'll be able to grow your contacts with key players in the industry, getting advice on developing your career and obtaining work. You'll be encouraged to actively seek professional work through auditions, sitting in on productions and networking with musical directors.
You can also take part in our masterclasses with renowned artists who visit the College every year as part of our performance programme. They can offer expert guidance in helping you take your artistry to the next level.
In specialist classes, you can work alongside undergraduate multi-instrumentalist woodwind students. There, you'll focus on repertoire from key shows, performing as an ensemble and extending your stylistic awareness to develop your resilience across a range of flutes, clarinets and saxophones.

You'll gain vital experience working with different musical directors as part of the ensembles for the student theatre performances that we hold during the academic year.
Half of your second year will focus on developing professional projects, which are linked to real-world experiences. Areas you can focus on include research, teaching, community music, collaborative creative practice, composition and digital artistry.
Part of this work includes meeting regularly with a specialist mentor, allowing you widen your network of industry contacts.
You can take part in seminars that delve into the main elements of starting – and sustaining – a successful portfolio career. They'll cover networking, tax and finance, funding applications, social media and establishing yourself as an independent musician.
'Wales is a place of such creativity that sees the arts as something for everyone to take part in. That ethos is a part of the College and sets it apart.'

Errollyn Wallen

Composer and RWCMD Artist in Residence
Sign up to receive our latest updates
An email asking you to confirm your address will be sent. Please check your spam / junk folder if the email doesn't arrive within a few minutes.
The College takes the protection of all personal information seriously and is fully committed to the protection of the rights and freedoms of all individuals. We will process your data according to our privacy statement, which you can read at https://www.rwcmd.ac.uk/privacy