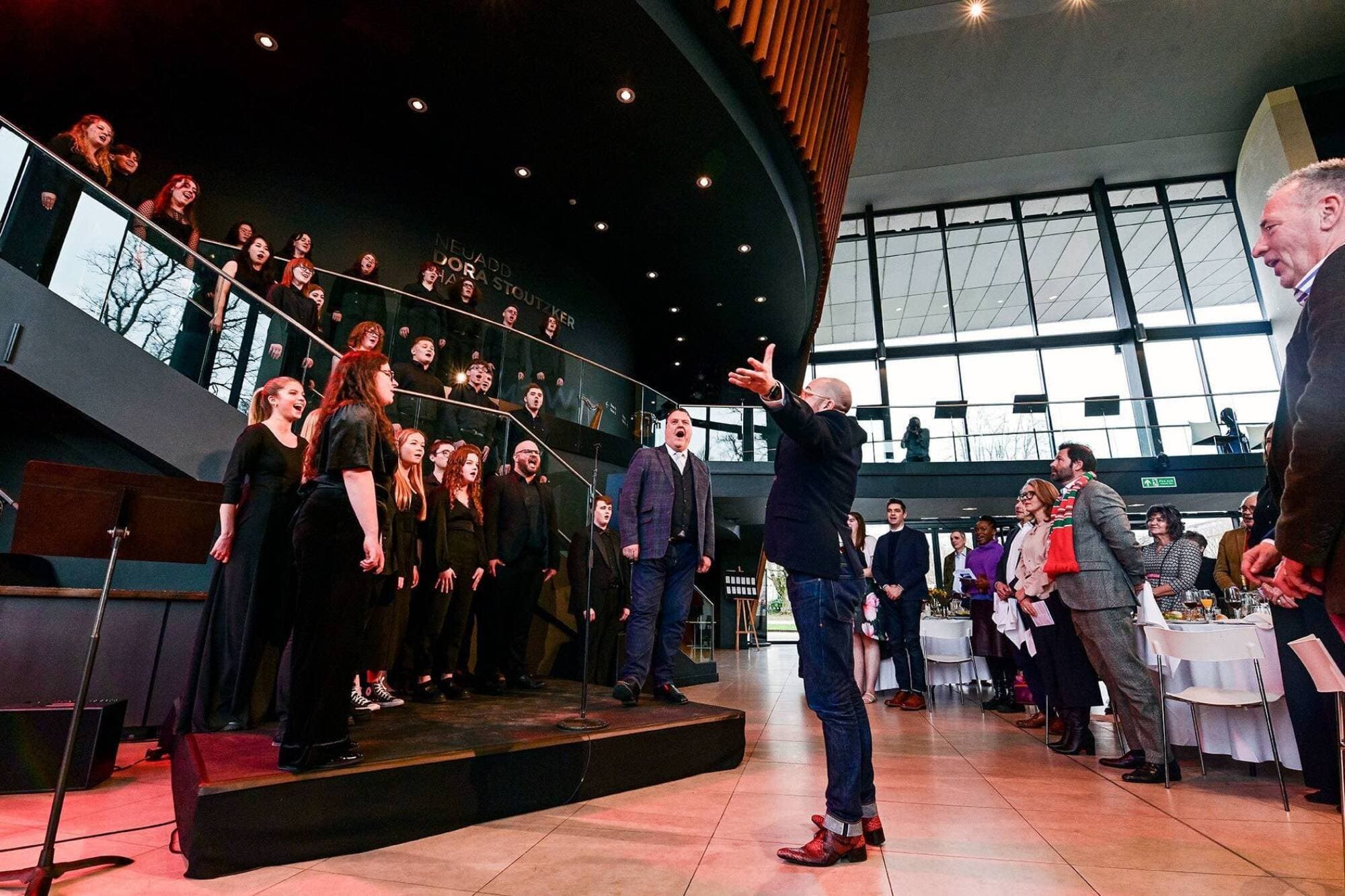 Foundation Sir Bryn Terfel
Join Sir Bryn Terfel to support future generations of performing artists.
Sir Bryn Terfel
Sir Bryn Terfel is one of the world's greatest singers, appreciated and admired for his significant talent as an actor as well as for his beautiful voice, which combine to captivate audiences all around the world.

Born in Wales, Sir Bryn is passionate about the language and culture of his country and supporting future generations of performing artists from everywhere in the world, as they get their first opportunities to train and move into international careers.
A new foundation
His commitment – announced in February 2023 - to build a new foundation at the Royal Welsh College of Music & Drama that will remain permanently in our endowment and support scholarships and projects in perpetuity is a very exciting development for us.

'I have reached a time in my life and career when it matters deeply to me to get behind the next generations of performers and creative artists and to establish a permanent foundation here at the Royal Welsh College of Music & Drama to do so.

This is Cronfa (Welsh for fund) and my wife Hannah and I are now working closely with the Leadership and Development teams at the College to find and inspire the first philanthropists and donors who will join us on this exciting journey to build a new and lasting fund. Everyone is welcome.'
Building a £5m fund
Sir Bryn has brought his existing Foundation into the College to make something completely new with Cronfa.
Over the next 3 years, he and the College will work together to identify a small group of patrons who will be lead partners in this venture and who will contribute founding gifts to build towards a £5m fund.
Getting behind Cronfa Syr Bryn Terfel will also be open to everyone who wants to get involved, as future special fundraising events are organised and a regular giving programme is established and managed through RWCMD Development.
Cronfa Syr Bryn Terfel will also be promoted as a very special destination for legacy giving.
The first Cronfa Syr Bryn Terfel projects will include:
The new Cronfa Syr Bryn Terfel Song Prize, hosted at the Royal Welsh College of Music & Drama for the first time in Autumn 2024, will be worth £5,000 to the winner and offered every two years. The Prize will be open to singing students from conservatoires in the UK and from a selected group of international institutions.  Competitors will be required to offer a programme that includes a song in Welsh as well as one that puts a spotlight on their own language and culture.
A new suite of Cronfa Syr Bryn Terfel scholarships and bursaries, awarded across all disciplines in the College and Junior College, where there is the greatest financial need.
Projects and commissions that celebrate the Welsh language and Welsh culture, with an emphasis on interactions with other international cultures.