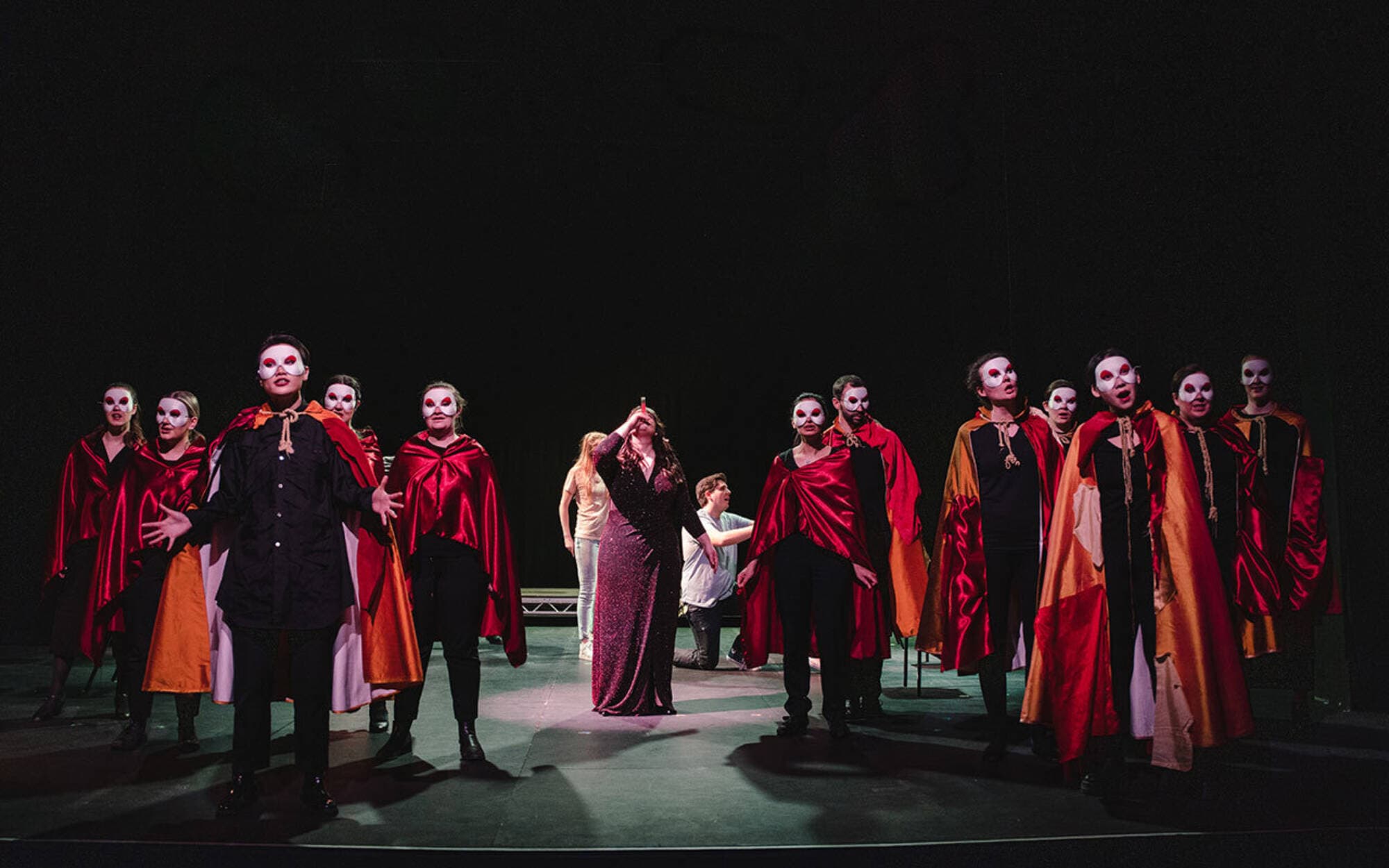 MA Opera Directing
Award:

MA Opera Directing

Awarding body:

University of South Wales 

Location of study:

Cardiff (RWCMD and Old Library) 

Start date:

22 September 2024

Duration:

14 months full time

Course code:

750F – UCAS Conservatoire
Introduction
---
Our fully mentored course features specialist, tailored tuition, experience directing our operatic projects and a placement within industry.
Course overview
This course, which is the first of its kind in the UK, provides individually tailored tuition that elevates your skills in readiness for a professional role as an opera director.
Mentored by tutors who are professionals drawn from across industry, you'll examine the key elements that will contribute to your artistic and creative development – including acting methodologies, rehearsal techniques, principal singing languages and movement.
You'll also explore different operatic forms, styles and conventions. Investigating artistic relationships – such as the design process and the conductor's role – forms part of your tuition too.
Practical directing experience in a collaborative setting is fundamental to your training. You'll work across various creative disciplines involved in producing opera, immersing yourself in the many performances and projects that take place here at the College – with opportunities to direct in-house opera scenes as well.
You'll observe professional opera directors at work – both here at the College and at the Welsh National Opera – to gain a better understanding of the industry in practice and build your network of contacts.
Your course culminates with a fully negotiated industry placement in a professional UK opera company, focusing on the role of staff director and associated areas of expertise.

Why study this course?
Your fully mentored programme of study is tailored to your specific skills, experience and career ambitions – and will address your strengths and weaknesses from the outset.

Through a series of placements at WNO (or another agreed opera house), you'll have the opportunity to observe and experience a wide range of activities associated with working on opera productions and company organisation. This could include briefings from WNO casting, budgeting and scheduling staff, so you can understand the logistics involved in producing an opera from start to finish.
All of our close partnerships with industry means that you not only receive training of the highest calibre, but have confidence that our standards, working practices and curriculum are up-to-date and fit for purpose.

Our impressive list of tutors include renowned industry professionals and incorporates masterclasses from visiting artists who visit the College each year as part of our public performance programme. They offer you not only first-rate teaching, but mentorship and networking opportunities as well.

You'll take charge of an operatic project, working with a College cast to create a performance (in-house or public) that meets a specific set of objectives. You'll be mentored across the project by a professional director, who will offer advice and feedback at all stages of the project's development.
Following this, towards the end of the programme, you'll undertake an extended mentored placement with one of our industry partners to work on an external professional production.
You'll have the freedom to experiment with a range of artistic approaches, while cultivating a directing ability that embodies creative maturity and integrity.
You'll gain a contextual and stylistic confidence and fluency that underpins performance, as well as learn the considerations for working in operas in different languages.
You'll develop a deep understanding of the professional practice, standards and requirements of the sector, so you can confidently progress onto an industry role after graduation.
Collaboration is an integral part of our learning environment. You could be working in performance projects alongside students from our MA Opera courses or in public productions with those students on our undergraduate courses. These collaborations offer insight into other disciplines and can encourage creative partnerships that can last a lifetime.
To shape you into a versatile, employable musician, we offer a number of seminars during your course that cover a range of employability skills.
Sign up to receive our latest updates
An email asking you to confirm your address will be sent. Please check your spam / junk folder if the email doesn't arrive within a few minutes.
The College takes the protection of all personal information seriously and is fully committed to the protection of the rights and freedoms of all individuals. We will process your data according to our privacy statement, which you can read at https://www.rwcmd.ac.uk/privacy