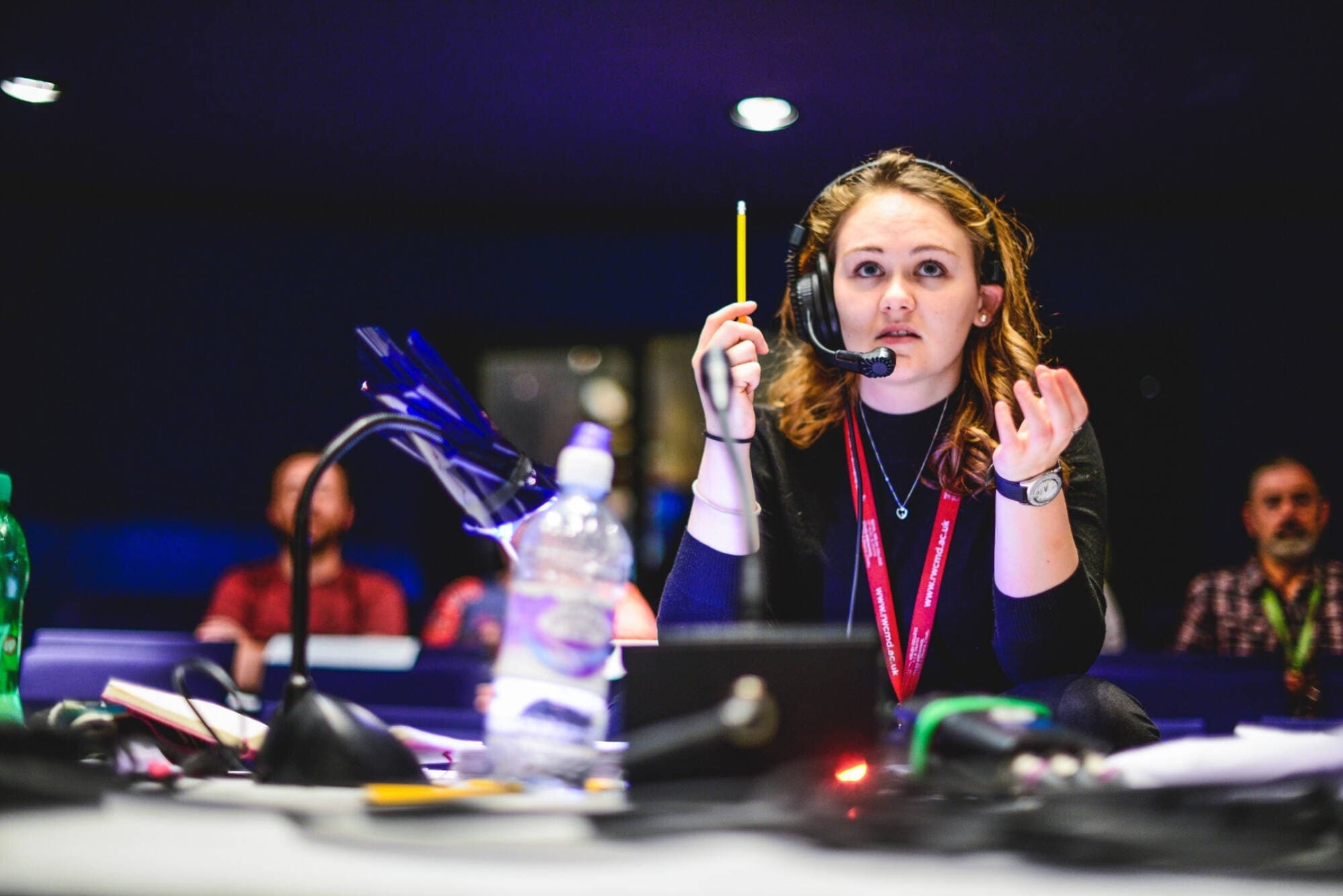 Stage Management and Technical Theatre
Our extensive training combines core technical skills, sound and lighting design, video, construction etc. and the full range of stage management skills, whilst focusing on your chosen specialism.
Do you want to specialise in theatre, live events and film & television production?
Your training is tailored to your individual interests and career goals through  production work, as you gain a broad practical experience in a range of technical and production roles. We treat you as a professional from day one. You'll be working as our resident stage management team to produce professional standard productions in College and on external placements.
Why study at RWCMD?
We offer immersive, hands-on practical and 'fit for the future' training. Our course covers a wide range of practical skills in stage management. You'll train in every aspect a theatre practitioner needs, such as lighting, sound, video, construction before specialising in your chosen area.
The skills you learn enable you to graduate as 'industry ready' and we have a 100% employment record.
The College is a thriving arts centre and you'll gain practical experience in a variety of production roles working backstage in professional theatre and performance environments such as music concerts, opera productions, exhibitions, in-house events and festivals, including BBC Young Musician of the Year.
Our in-house theatre company, the Richard Burton Company, produces around 24 productions a year offering our students cross-course collaborative opportunities.
Creating, designing and working on live productions, with mentors as support, you'll take on increasing levels of responsibility in more senior roles across the Richard Burton Company.
We offer some of the best and most varied facilities and equipment in the country, enabling you to experience working with different technical aspects of backstage work, including manual, counterweight and a fully automated flying and staging systems.
You'll have industry placement opportunities with prestigious high-profile companies gaining valuable networking opportunities as well as focused industry experience.
Our high ratio of staff to students means you'll have a lot of dedicated one-to-one training and mentoring.
Training is delivered by industry professionals, for example, graduates Dominic Bilkey, Head of Sound and Vision at National Theatre, or international lighting designer Tim Routledge who has worked with everyone from Beyonce to Stormzy, as well as the London Olympics.
Industry placements
Of the ten College productions you will work on over the three years, up to four of them can be taken with external companies. Previous placements have included key national institutions like National Theatre, Royal Shakespeare Company, Shakespeare's Globe, Neg Earth, white light, PRG, Delta Audio, Two Trucks Production and major festivals such as Glastonbury and Download. Our students have also worked internationally, in America and across Europe.
Wales boasts a thriving creative industry sector and opportunities for stage management in local prestigious companies, like Bad Wolf, Cardiff Theatrical Services, Bay Productions, Wild Creations, Stage Sound Services, Wales Millennium Centre, Sherman Theatre Cymru among others.
'As the world and the industry's changing, so has our teaching: there's been a steady change in areas such as digital and video production, automation, and at RWCMD we're continually adapting our course to suit these changes, balancing old and new skills.

Our graduates, out working in the industry, are at the cutting edge of these changes and come back to us and share this knowledge directly with the students.'

Ian Evans

Head of Stage Management