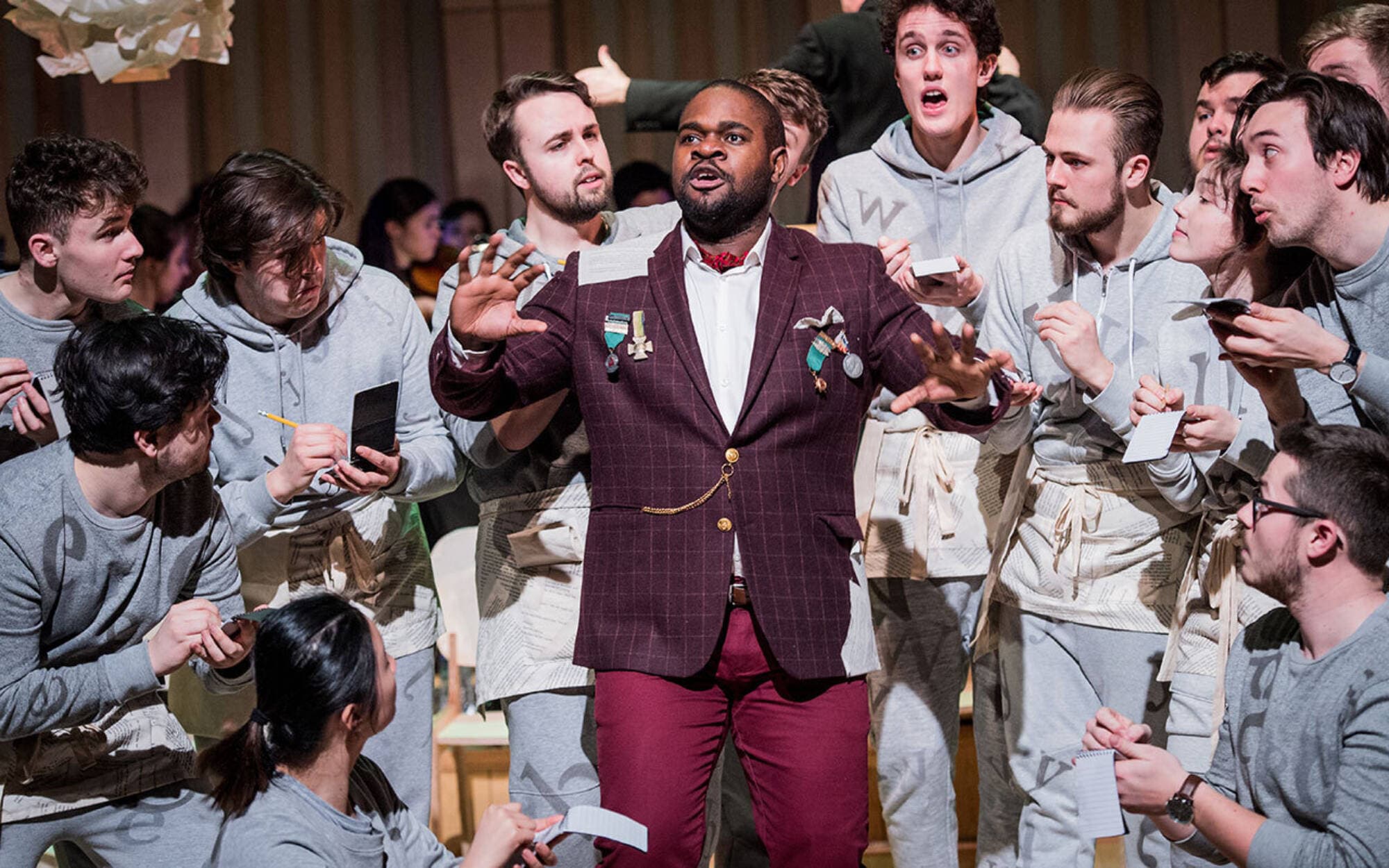 MA Advanced Opera Performance
Award:

MA Advanced Opera Performance

Awarding body:

University of South Wales 

Location of study:

Cardiff (RWCMD and Old Library) 

Start date:

22 September 2024

Duration:

Two years full time

Course code:

752F – UCAS Conservatoire
Introduction
---
Meet the demands of today's professional opera companies with our industry-led course that blends specialist tuition with diverse performing opportunities.
Course overview
In this advanced programme, created in association with the Welsh National Opera (WNO), you'll delve into a rigorous combination of individual tuition, specialist classes and numerous performance opportunities in a range of settings.
Your programme of study involves one-to-one singing lessons and repertoire training with tutors who are eminent professional singers and coaches.
You'll balance this with classes in stagecraft, dramatic and interpretive skills, and the main operatic languages (Italian, French and German). Tuition focused on building your professional and employability skills also plays a part in your training.
However, it's performing that is the foundation of your time here. You'll take part in ensemble projects and opera scene presentations, but the majority of your study will centre on a public performance in a fully staged opera, involving periods of intense preparation and rehearsal.
Through our strong ties with industry, you'll be immersed in a professional operatic company environment from early on in your course – these include opportunities to observe and shadow selected WNO studio rehearsals.
Through a range of teaching approaches in an inspiring conservatoire setting, you'll develop a mastery of the essential skills and knowledge necessary to succeed in today's industry.

Why study this course?
It encompasses a combination of teaching approaches that enrich your specialist skills, while enhancing your employability – one-to-one tuition, coaching, groupwork, tutorials, lectures, seminars, practical classes and workshops.

Your programme of study won't adhere to any single methodology or philosophy – instead, it brings many influences and approaches to your work so you can grow confident in identifying and understanding your own artistic vision.

Our impressive list of tutors includes renowned vocal soloists and distinguished coaches. They offer you not only first-rate teaching, but mentorship and networking opportunities as well.
Our partnerships with industry offer you opportunities to observe and shadow selected WNO studio rehearsals. Not only will this help you to build a network of contacts, but you'll also be able to develop a deep understanding of how the industry operates.
You'll balance your individual tuition with fully integrated classes in stagecraft, which include movement and dance, and tuition in dramatic and interpretive skills. You'll also have classes in the main operatic languages – Italian, French and German.
Performing is crucial to your training, and you'll take part in ensemble projects, various performances and opera scenes presentations – including baroque and contemporary works as well as standard repertoire – to hone these skills.
Your study culminates in your taking a detailed study and preparation of a complete operatic role for presentation at a professionally equivalent audition and working session. This is usually assessed by a head of music from one of the main UK opera companies.
You'll learn professional operatic working practices with professional directors and repetiteurs, offering you insight into the inner workings of the industry and building familiarity with the operatic environment.

Your chosen programme of study will help you to build the critical skills needed to make effective judgements concerning suitable repertoire and role choices for professional auditions.
You'll have classes that focus on professional etiquette and opera protocol, helping you to develop an awareness of collaborative working practices.
You'll also have intensive training in audition techniques, as well as employability seminars that focus on the professional skills needed to succeed in a portfolio career – such as those involving finance and social media.
Sign up to receive our latest updates
An email asking you to confirm your address will be sent. Please check your spam / junk folder if the email doesn't arrive within a few minutes.
The College takes the protection of all personal information seriously and is fully committed to the protection of the rights and freedoms of all individuals. We will process your data according to our privacy statement, which you can read at https://www.rwcmd.ac.uk/privacy