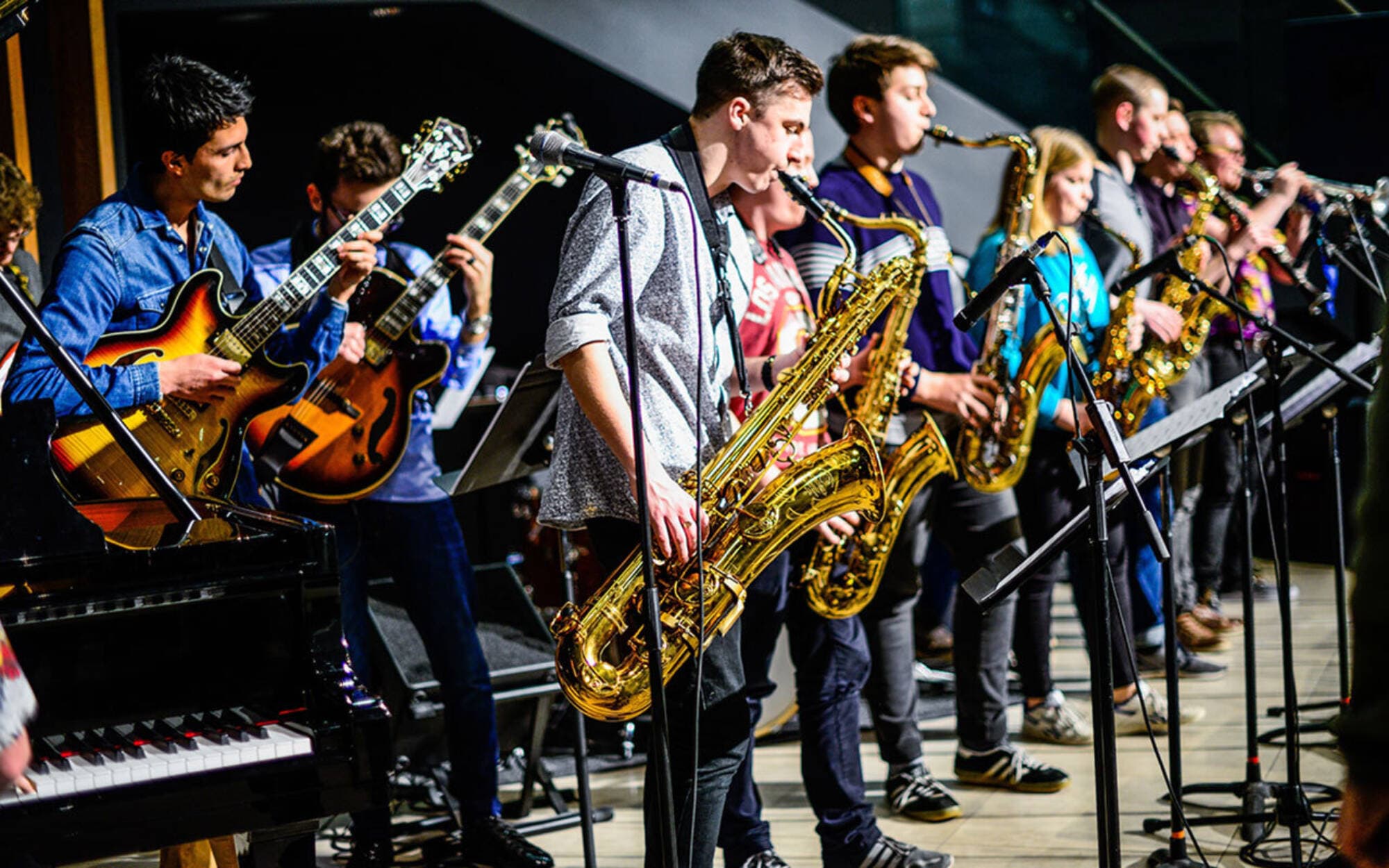 BMus (Hons) Jazz
Award:

BMus (Hons) Jazz

Awarding body:

University of South Wales 

Location of study:

Cardiff (RWCMD and Old Library) 

Start date:

22 September 2024

Duration:

Four years full time

Course code:

310F - UCAS Conservatoires
Introduction
---
Performing, collaborating and composing are at the heart of our professional jazz training, giving you all the skills you need for a career in music.
Course overview
Incorporating many of the distinctive components of our flagship BMus course, this programme offers specialist modules for those students who want to pursue a professional career in jazz.
Training alongside some of the UK's best jazz musicians, you'll get opportunities to perform and collaborate with students on your course and those from other departments across the College.
Inspired by the ever-changing needs of the jazz performer and composer, it covers the main performance disciplines associated with the genre: vocal, instrumental and composition.
You can study any of these instruments as part of your course:

Bass
Drums
Flute
Guitar
Piano
Saxophone
Trombone
Trumpet
Voice
Studying in small groups, you'll not only gain a deep understanding of the history and philosophy of jazz, but you'll examine its repertoire in a wide selection of genres and sub-genres.
But one of the most important parts of your training will be ensemble playing. You'll perform in front of audiences at the myriad gigs held across the College – or as part of Cardiff's flourishing jazz scene.
All of these elements, combined with networking and placements with some of the most respected organisations in the business, lay the groundwork for a lasting, successful career in today's music industry.
Why study this course?
From day one, you'll work with a team of tutors who are focused on making you the best musician you can be. With these one-to-one and group lessons – which we call 'principal study' – you can explore all sorts of different specialisms, approaches and techniques, giving you the confidence to find your artistic voice and pursue your chosen career path.
To shape you into an innovative, well-rounded and employable musician, your principal study features different types of tuition. It includes performance classes, ensemble rehearsals, practical classes, workshops, studio sessions, lectures, seminars, group projects and many opportunities to take part in work experience.
Our impressive list of tutors includes some of the UK's leading jazz artists, all of whom are practicing contemporary jazz composers and renowned instrumentalists/vocalists. They offer you not only first-rate individual teaching, but ensemble coaching, group teaching, mentorship and networking opportunities.
You could join smaller collaborations, perform in a big band, sing in the jazz choir or work with students on a drama or musical theatre production. And, every week, you can take part in planning, presenting and performing for the public at our student-led jazz club, JazzTime, to build your entrepreneurial skills and share your work with new audiences.
Your end of year performance assessment is a real-life professional experience performing in our yearly jazz festival, which offers you the opportunity to perform on a professional platform.
To help you develop as a musician, we've incorporated a substantial level of assessment into your course. Getting used to this ongoing discussion of your development is crucial to your artistic growth.
You'll also gain an awareness of the evolving trends and new media within the industry. You can also learn more about the Alexander Technique, biology for musicians, music for theatre, composing and arranging, and sound recording.
You will have the option to study abroad at a partner conservatoire, opening up a whole new realm of networking, collaboration and performance opportunities.
To help you learn employability skills – with the ultimate goal of forging a career after you graduate – we offer professional development activities, talks and specialist guidance every term. And we also encourage you to create your own live performances, giving you another way to gain vital entrepreneurial skills.
Outside of the College, you'll also get the chance to work with local communities, as diverse as performing in Cardiff's range of jazz clubs and facilitating workshops in local schools.
Testimonials
'This course is constantly developing in a way that's highly beneficial to students wanting to get the most they can out of their playing. Working with leading UK Jazz musicians, it's a course that keeps on giving.'
'My time at RWCMD has been incredibly revealing for myself in what I want from a career in the modern industry. Having the space to learn from fellow musicians at the top of the British and European music scene alongside the support of fellow students, has been invaluable for my individual development, not only as a professional but also as a friend and mentor.'
'Cardiff is a great place to study Jazz, with amazing gig opportunities and a close-knit community. The BMus Jazz course is very welcoming and supportive of everyone's musical tastes and experiences. The syllabus includes a wide range of genres to study throughout the four years so you leave with an extensive knowledge of Jazz and other similar styles.'
'I'm so grateful for the support, insight and encouragement I received studying at the Royal Welsh College. My first attempt at writing for a big band, led to me winning the Eddie Harvey Jazz Arranger Award – a testament to the expertise and encouragement of my tutors.'
'Wales is a place of such creativity that sees the arts as something for everyone to take part in. That ethos is a part of the College and sets it apart.'

Errollyn Wallen

Composer and RWCMD Artist in Residence
Sign up to receive our latest updates
An email asking you to confirm your address will be sent. Please check your spam / junk folder if the email doesn't arrive within a few minutes.
The College takes the protection of all personal information seriously and is fully committed to the protection of the rights and freedoms of all individuals. We will process your data according to our privacy statement, which you can read at https://www.rwcmd.ac.uk/privacy
Allow Unistats (Discover Uni) content?
This content is provided by Unistats (Discover Uni). We need to ask for permission before viewing as they may be using cookies and other technologies to collect and process your personal data. For more information, please read their privacy policy , cookie policy. To view please accept below.