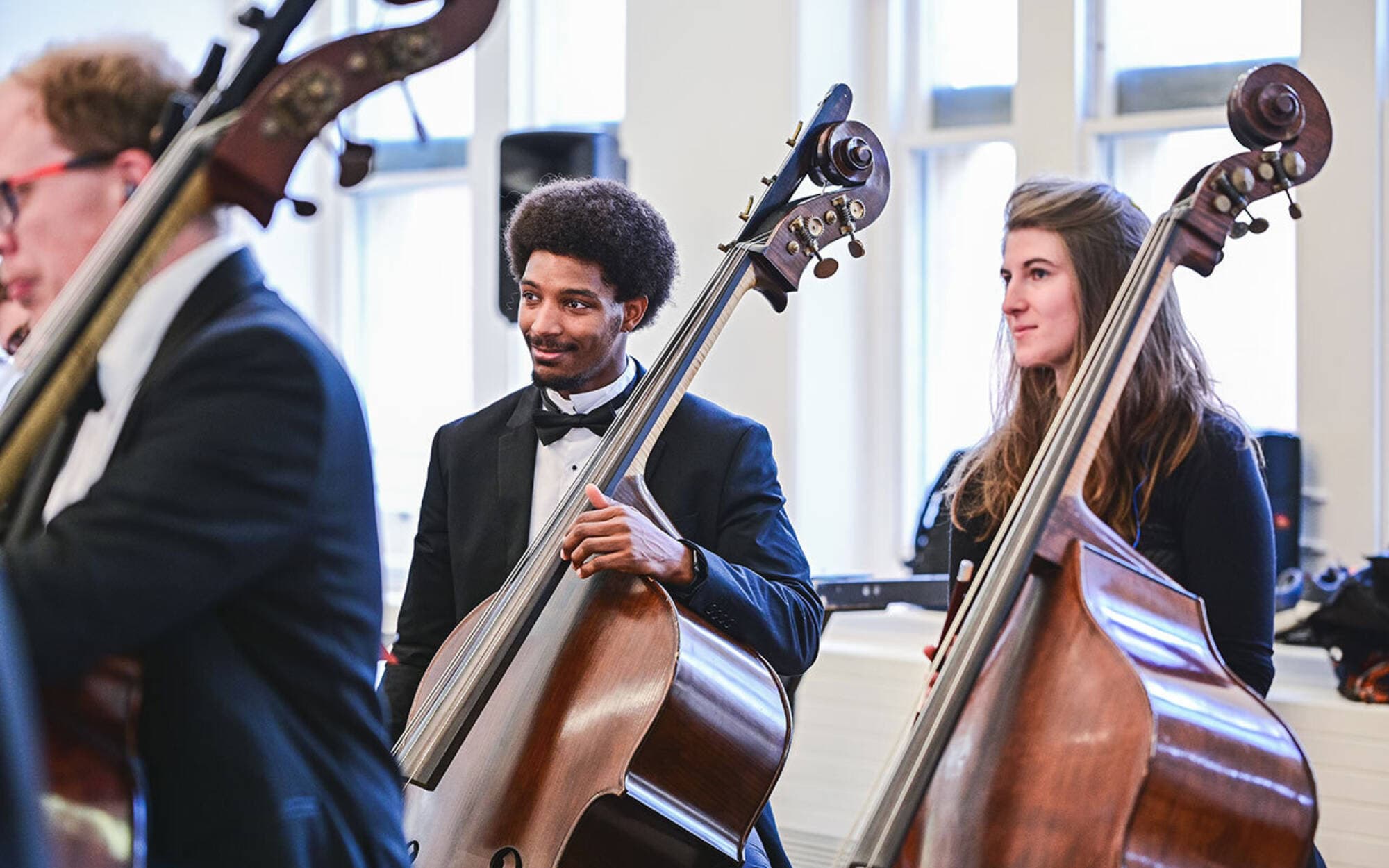 BMus (Hons) Music – Instrumental and Vocal
Award:

BMus (Hons) Music – Instrumental and Vocal

Awarding body:

University of South Wales 

Location of study:

Cardiff (RWCMD and Old Library) 

Start date:

22 September 2024

Duration:

Four years full time

Course code:

300F - UCAS Conservatoires
Introduction
---
Train alongside the world's best musicians in an inspiring, collaborative environment that helps you meet the demands of a contemporary music career.
Course overview
Our flagship music course takes you on an exploration of artistic development, with practical training and opportunities strongly linked to current music industries at its heart.
Solo performance and collaborative artistry are fundamental to your studies, and the course offers opportunities both within the College and in a variety of professional and community settings to develop your skills.
You'll not only hone your technical and artistic skills with some of the industry's leading practitioners, but you'll have opportunities to perform and work on a range of projects, often collaborating with students from departments across the College – from different instrumental/vocal disciplines through to acting, design or stage management.
You can specialise in any of these disciplines, which we refer to as 'principal study':

Brass
Guitar
Harp
Multi-instrumentalist (woodwind)
Percussion
Piano
Strings
Voice
Woodwind
As part of your personalised education, you'll enjoy individual and group lessons, performance classes, as well as masterclasses with some of the industry's most acclaimed performers. You'll also take part in weekly choral training and a broad range of ensemble and orchestral activities, supported by key professional studies modules, specifically designed to develop every aspect of your musicianship.
Whether you're an instrumentalist or a singer, you'll be guided by your own team of outstanding teachers with years of professional experience who still enjoy an active professional career. They're perfectly placed to mentor you and support your career aspirations at every stage, helping you to become a versatile, adaptable and proactive artist.

Why study this course?
You'll gain a deep understanding of the current music industry, learning the relevant skills and professional knowledge you need to pursue a career doing what you love. 

You'll get a mix of expert one-to-one and group tuition in your main area of instrumental or vocal focus – which we call 'principal study'. This includes performance classes, ensemble rehearsals, practical classes, workshops, studio sessions, lectures, seminars, group projects and chances to gain considerable experience.

You'll be learning with our comprehensive team of tutors, including renowned instrumental and vocal soloists, deeply experienced chamber musicians, distinguished coaches, prominent composers, conductors and creative artists in a range of genres – plus principal players in major orchestras and ensembles. These outstanding teaching artists offer you not only top-level teaching and guidance, but mentorship and valuable networking opportunities as well.

We have close relationships with respected arts organisations and world-renowned opera companies and orchestras in Cardiff and further afield – and some of them offer exciting experience schemes that are open to you as an undergraduate here.

We offer an extensive range of elective professional development modules to deepen your knowledge and understanding on your path towards your future career.

You'll train in a rich and diverse creative community alongside hundreds of other students across the College – including those from across the various drama departments (e.g., acting, musical theatre, puppetry, arts management, etc.) – who are also looking to collaborate and create new work. 

There are many performance opportunities available to you as an integral part of the course, many of which are public performances. This includes your performance assessments, which will typically take place in front of an audience, allowing you to build your platform and artistic performance skills, as well as connect with listeners on a regular basis.

You can explore a broad range of musical genres – including classical, Welsh traditional, and contemporary repertoires – as well as keeping up to date with the ever-changing aspects and exciting new opportunities of the music business.

You'll get chances to engage with diverse audiences and link your work with communities throughout Wales. This can take many forms, but typically includes external community-based performances, schools music workshops, educational work and other community-based projects.
In our society and music classes, you can discover the ways music has been used to effect social change, investigating the drivers and factors that led to the creation of diverse repertoires. Exploring a more inclusive range of music, you'll delve into works by LGBTIQA+ artists, as well as Black, Asian and ethnically diverse composers and artists.

You will also be supported to develop your personal strategies for ethical and sustainable working approaches, giving you the appropriate awareness, professional etiquette and communication skills for the field you'd like to work in after you graduate.

This course is not only about practical training – you'll also take part in a balanced physical, emotional and intellectual path to music-making, with a range of classes offered in performance psychology, Alexander Technique and other mind-body approaches.
'RWCMD has its own unique stamp, and you feel that as soon as you walk into the building. What's particularly striking is its openness, and I think that is because of the real commitment from staff and students to exchange knowledge in an atmosphere of tremendous support. You can see how the students would carry that through into their professional lives.'

Errollyn Wallen

Composer and RWCMD Artist in Residence
Sign up to receive our latest updates
An email asking you to confirm your address will be sent. Please check your spam / junk folder if the email doesn't arrive within a few minutes.
The College takes the protection of all personal information seriously and is fully committed to the protection of the rights and freedoms of all individuals. We will process your data according to our privacy statement, which you can read at https://www.rwcmd.ac.uk/privacy
Allow Unistats (Discover Uni) content?
This content is provided by Unistats (Discover Uni). We need to ask for permission before viewing as they may be using cookies and other technologies to collect and process your personal data. For more information, please read their privacy policy , cookie policy. To view please accept below.