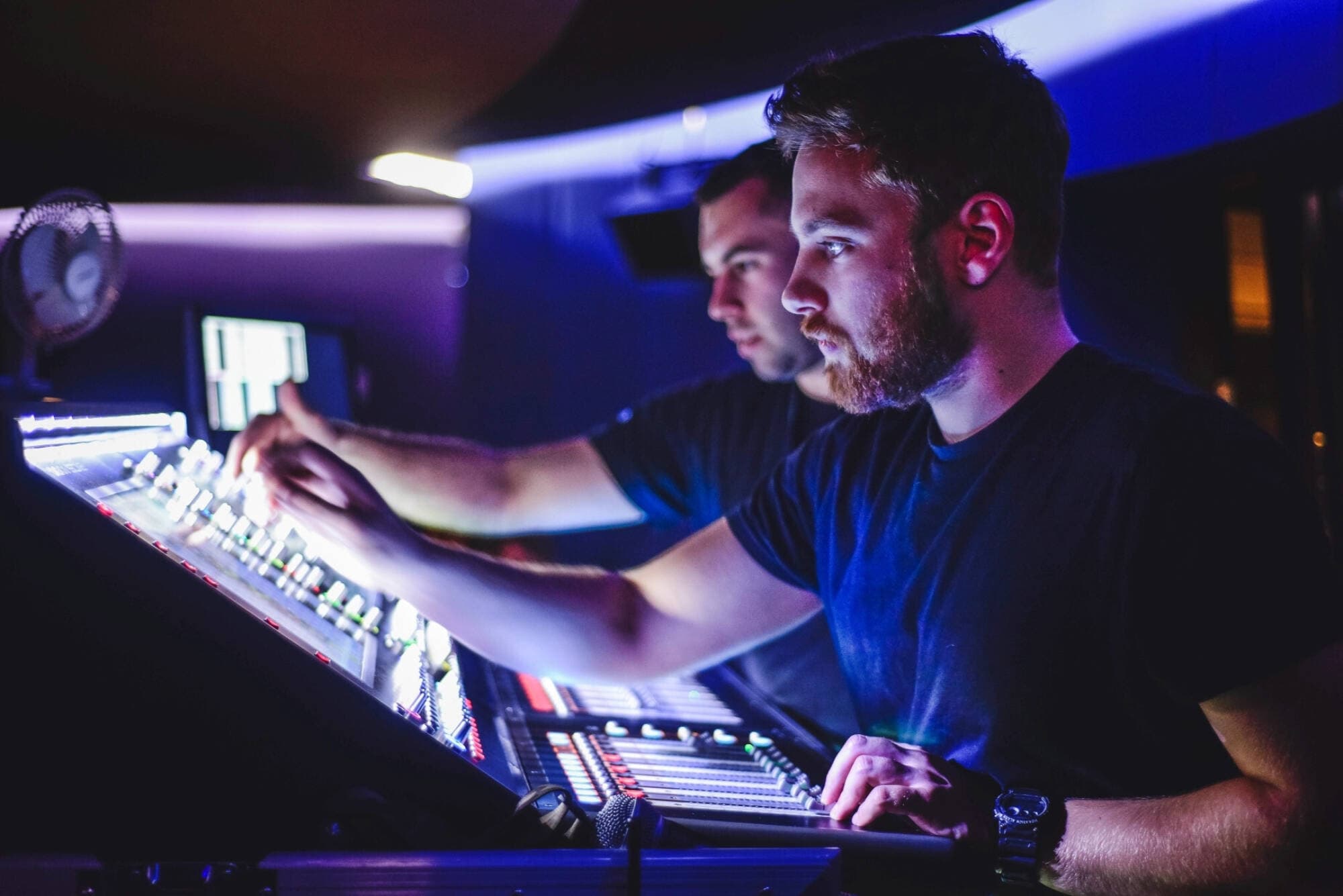 MA Stage & Event Management
Award:

MA Stage & Event Management

Awarding body:

University of South Wales 

Location of study:

Cardiff (RWCMD, Llanishen Studios and Old Library)

Start date:

22 September 2024

Duration:

24 months full time

Course code:

400F – UCAS Conservatoires
Introduction
---
With tuition from industry experts and four placements, this course equips you with the skills you need to work in film, live events, theatre and TV production.
Course overview
This specialist vocational training course provides you with the full range of skills needed to work in stage management for theatre, live events, production management, technical direction or roles within the television and film industries.
It's aimed at graduates of any discipline with previous practical experience – or those who've worked in the entertainment or event industries who want more advanced training to enhance their employment opportunities.
From the outset, you'll have a series of up to four six-week placements working on productions and events in our lively arts venue that reflects the practices and conditions of the entertainment industry.
Or you can choose to have up to two of these placements with professional companies – you'll have the freedom to shape your work experience to suit your interests and career ambitions.
In addition to your hands-on training, you'll have classes focusing on the technical and organisational skills that are essential in fulfilling your production role. These include areas such as health and safety, computer-aided design (CAD), employment legislation, job roles, creating budgets and scheduling.
All of these elements, combined with masterclasses and seminars from renowned experts, give you a comprehensive learning experience that sets you up for a career in an exciting industry.

Why study this course?
Throughout your tuition and work placements here at the College, you'll be guided by a team of staff and production supervisors who are current, established industry practitioners. They'll offer you not only first-rate teaching, but mentorship opportunities as well.

In your work placements here at the College, you'll hold production roles in a range of our events, including in-house plays, musical theatre, opera, orchestral concerts, exhibitions and outdoor events.

You'll work alongside performers, designers, directors, clients and venue staff in an environment that reflects the practices and conditions of the entertainment industry, preparing you for your future career.

We have very close links with industry that allow us to offer placement opportunities to our students – not only in theatre, but across the industry, including events, film and television.

These industry partnerships and your collaborations with professional production supervisors and events specialists also provide you with networking opportunities, allowing you start to building your list of contacts – essential for a career in the entertainment sector.

You'll have lessons in health and safety, computer-aided design (CAD), job roles, budgets, scheduling and essential technical skills. Classes in problem solving, management theory, logistics, team working and career planning form part of your study as well.

You'll have the opportunity to attend masterclasses and seminars from leading experts. They offer you a chance to network, gain invaluable insight into the profession and gain a better understanding of the industry.
You'll work closely with students on your course, as well as students from our BA and MA Design for Performance, BA and MA Acting and BA and MA Musical Theatre courses. Aside from getting an inside look into other creative disciplines, you'll get the opportunity to form creative partnerships that could last a lifetime.
Our graduates are sought-after in the industry. They've gone on to hold various roles – such as company stage manager, stage manager, deputy stage manager, assistant stage manager, tech swing and producer – in organisations such as National Theatre London, National Theatre Wales, Sherman Theatre Cardiff, Wales Millennium Centre, Welsh National Opera, Royal Shakespeare Company and Shakespeare's Globe.
They've also been involved with many West End shows, such as Harry Potter and the Cursed Child and Wicked, and numerous UK and international tours such as War Horse and Matthew Bourne's Red Shoes. Further afield examples include the world tours for the Phantom of the Opera, Beyonce and the Spice Girls.
You can choose how to approach the final component of your course – it can involve either writing a dissertation or creating a professional practice portfolio (PPP), with support and mentoring from your tutors.
'With this course we have the chance to try out different roles. It's great that they teach you different pathways as it allows you to decide early in your career what you want to specialise in.'

James Stevenson

Sound designer
'To me the College has been integral to everything I've done in my career. It's been really important to me to maintain that relationship and that network of support, learning and mentoring.'

Sarah Hemsley-Cole

Graduate and Fellow
Sign up to receive our latest updates
An email asking you to confirm your address will be sent. Please check your spam / junk folder if the email doesn't arrive within a few minutes.
The College takes the protection of all personal information seriously and is fully committed to the protection of the rights and freedoms of all individuals. We will process your data according to our privacy statement, which you can read at https://www.rwcmd.ac.uk/privacy