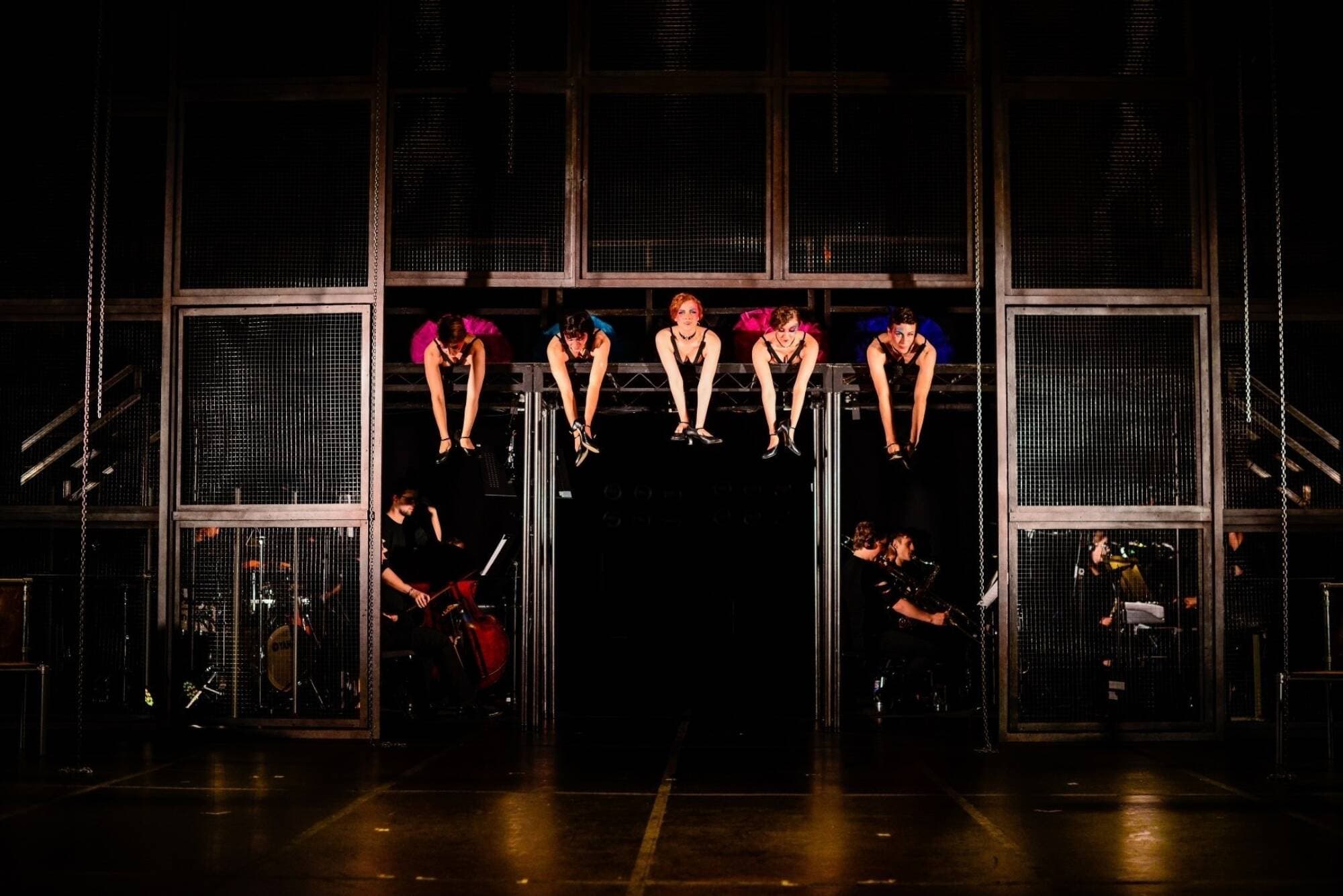 MA Musical Theatre
Award:

MA Musical Theatre

Awarding body:

University of South Wales 

Location of study:

Cardiff (RWCMD, Llanishen Studios and Old Library)

Start date:

17 September 2023

Duration:

10 months full time

Course code:

713F – UCAS Conservatoires
Introduction
---
Meet the demands of today's industry with our course that blends acting and dance classes with one-to-one singing lessons and roles in two public performances.
Course overview
In this advanced training programme, we create the circumstances – through class work, rehearsal and performance – that drive you to develop specialised skills in acting, singing, the spoken word, dance and movement.
With it, you can bridge the gap between a degree earned in a different subject (or other previous acting experience) and the standard expected by employers in the musical theatre industry.
Your training combines hands-on experience and specialist tuition led by prominent tutors, directors and coaches. From week one, you'll delve into an intensive schedule, which include individual singing lessons and repertoire coaching, acting, dance and vocal skills classes, workshops and rehearsals.
You'll then test what you've learned in a series of public performances. Held in a setting that reflects the professional theatre environment, they include at least one cabaret and one fully staged end-of-year musical production.
Your course finishes with showcase presentations in Cardiff and London's West End to an invited audience of agents, casting directors and potential employers. Our American students have an additional showcase in New York following their graduation.

What our students say
'I knew I needed to train. I knew it was vital as otherwise I wouldn't have a career with any longevity. RWCMD was the perfect school for that industry standard training, and also for me as a person. It's given me the muscularity to be a complete actor, ready to start my career. Acting is such a multi-faceted job and what the College does so brilliantly is to get you to immerse yourself in it all - working with so many specialists, from radio to screen and everything in between.'

Callum Scott Howells

Graduate and Fellow
'As an artist from Sarajevo, Bosnia and Herzegovina, with a rich professional background in theatre and music, I was searching for a program that would motivate me to grow and further develop my skills. The MA Musical Theatre program did that and more, challenging me and opening a new chapter of possibilities.

Being immersed in all the unique activities and performances at the College, working with the industry's best lecturers and tutors, and being at the centre of a progressive course, triggered my determination, imagination, and creativity. I've become more aware of my authenticity, which is going to be extremely beneficial for my career.'
Why study this course?
With only 14 places available each year, you'll experience an exceptional level of individual attention and career coaching, and all the benefits of working as part of a small ensemble.

Our course doesn't conform to any single philosophy of musical theatre training. Instead, you'll be introduced to many influences and strategies, allowing to make educated choices about the methods you'd like to incorporate into your own work.

Your training features a comprehensive range of acting, vocal and dance lessons, offering you a range of industry-led approaches that you can use in your professional career. 
On the acting side, you'll have skills classes with experienced tutors from our acting programmes, working with improvisation, character, relationships and text.
Your singing classes, held one-to-one with an esteemed vocal coach, focus on developing safe and sustainable techniques and repertoire. This will be supported by vocal skills classes covering physical techniques for performance, as well as vocal physiology, dialects and accents and the expressive use of your voice.

For the dance and movement components, you'll explore a range of disciplines, including jazz, tap and ballet. You'll also discover physical approaches to the development of character and methods for the safe, economical use of your body.

You'll work with an established team of professional practitioners drawn from across industry. They offer you not only first-rate teaching but mentoring and networking opportunities too.

You'll also have opportunities to meet and work closely with renowned directors, musical directors and choreographers, as well as visiting artists. These connections help you build links with the musical theatre industry and offer valuable insight into how the profession operates.

These strong ties with industry ensure that your training aligns with current professional practice.

Numerous opportunities to perform run through your course. You'll have chances to take part in a range of roles, including a cabaret, culminating in a fully staged musical theatre production that mirrors industry practice and protocols.
Our annual showcase performances take place in Cardiff and London's West End, giving you the opportunity to perform in front of an invited audience of agents, casting directors and other potential employers.

You'll take part in practical sessions on audition techniques in preparation for professional stage and television auditions.

You'll closely collaborate with the music, production and design departments, placing you at the very centre of our creatively diverse community.

Sign up to receive our latest updates
An email asking you to confirm your address will be sent. Please check your spam / junk folder if the email doesn't arrive within a few minutes.
The College takes the protection of all personal information seriously and is fully committed to the protection of the rights and freedoms of all individuals. We will process your data according to our privacy statement, which you can read at https://www.rwcmd.ac.uk/privacy