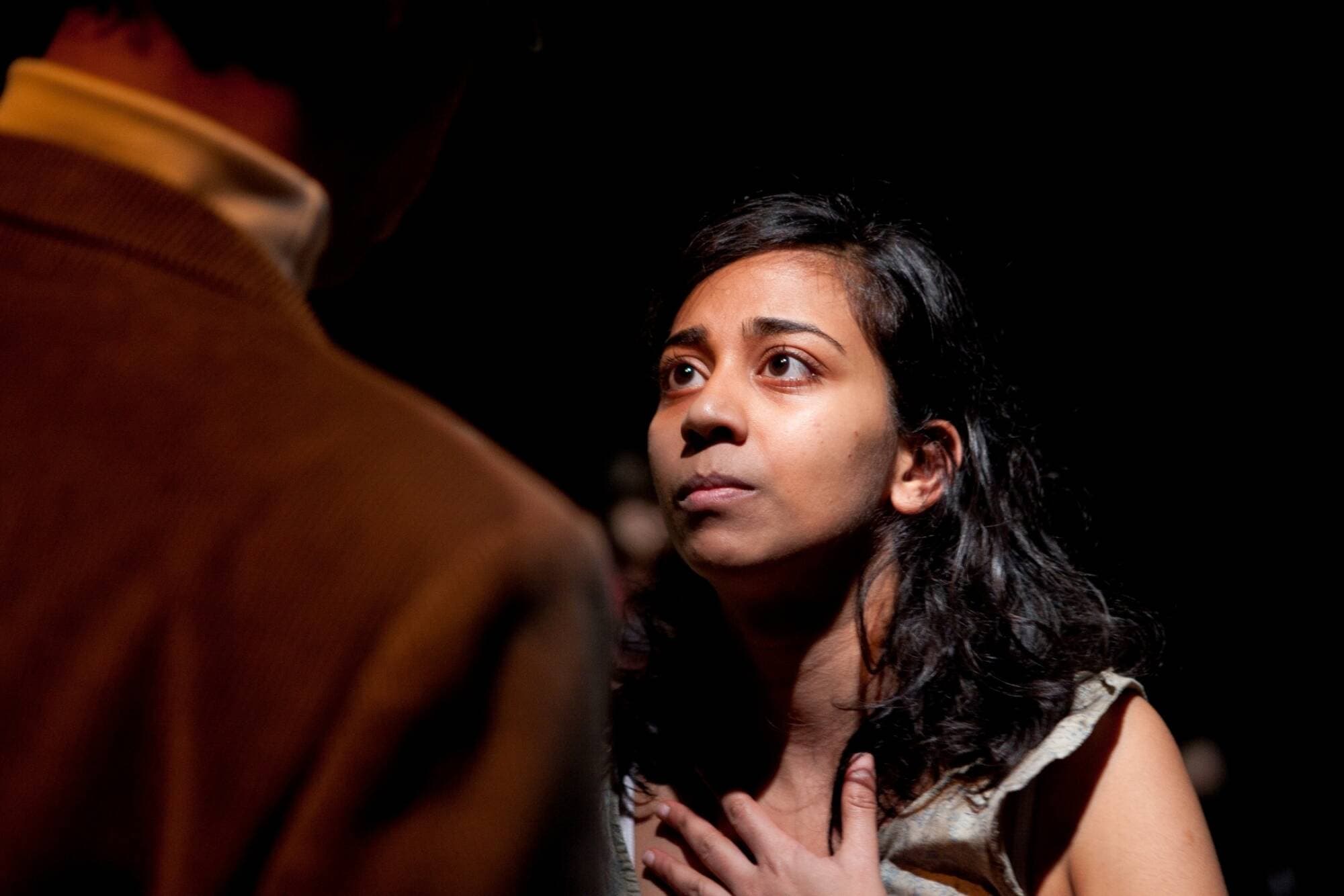 BA (Hons) Acting
Award:

BA (Hons) Acting

Awarding body:

University of South Wales 

Location of study:

Cardiff (RWCMD and Old Library) 

Start date:

17 September 2023

Duration:

3 years full time 

Course code:

200F - UCAS Conservatoires
Introduction
---
In this intensive practical and performance-based training course, you'll gain the skills and experience you need to sustain a career in theatre, screen and digital media.

Course overview
Pursue a professional career in theatre, film and TV with our acting programme that combines practical and performance-based training with expert tuition and an inclusive curriculum that celebrates diverse voices, new work and essential texts of the classical repertoire.
Working with world-class practitioners and coaches, you'll cultivate and expand your individual strengths, rather than moulding yourself to a prescribed ideal.
Your training starts with exploration of the fundamental approaches to acting through daily classes and rehearsals, including for work on screen. You'll also receive a thorough introduction to voice and text work, movement skills and singing. 
As you progress further in your training, you will extend your vocal and physical ability to work in a range of different performance environments and genres. Performance-based projects introduce the world and language of Shakespeare, comedy, devised and collaborative theatre, voice-over and radio acting. Additional training in acting for screen culminates with the creation of a selection of short films. 
In your final year, you will join the Richard Burton Theatre company – our professionally focused theatre company – along with our stage management, technical theatre and design students. You'll be cast in five public performances, one of which is in our flagship season of specially commissioned new writing performed in Cardiff and London.  
Throughout the course, you will be oriented towards the world of professional acting and the strategies required for finding and managing employment. The culmination of this work is the actors' showcases in Cardiff and London's West End to an invited audience of industry professionals, including agents and casting directors. Those students eligible to work in the US can also take part in a US showcase in New York City.

What our students say
'I knew I needed to train. I knew it was vital as otherwise I wouldn't have a career with any longevity. 'RWCMD was the perfect school for that industry standard training, and also for me as a person. It's given me the muscularity to be a complete actor, ready to start my career. Acting is such a multi-faceted job and what the College does so brilliantly is to get you to immerse yourself in it all - working with so many specialists, from radio to screen and everything in between.'

Callum Scott Howells

Graduate and Fellow
100
100% Overall course satisfaction
2023 National Student Survey (NSS)
Why study this course?
Your training will equip you with the practical skills to work in a range of media: theatre, television, film, audio work and a wide breadth of progressive new approaches and technologies
Through weekly contextual and reflective practice sessions you'll develop your understanding of your craft and chosen profession, building a toolkit for survival as an actor in the industry.
Rather than adhering to any single philosophy of actor training, our course seeks to bring many influences to bear on your work, encouraging you to be able to make informed choices about various approaches.

You'll work with renowned practitioners, both in-house and visiting, giving you access to the very best trainers and professionals, as well as a broad and lived-in knowledge of acting in a range of cultures and contexts.

In your third year, you will be given the opportunity to assimilate, develop and integrate the skills gained in the first two years through rehearsal and performance of a series of five full-length plays under professional working conditions, as part of the Richard Burton Company.

One of these performances will be part of our NEW drama season. You'll work with a professional writer, dramaturge and director within the process of a commissioned play. You will interrogate and workshop the writing over the course of the year before, entering an intensive five-week process where the piece is rehearsed and staged. These performances will take place in Cardiff before touring to a London venue.

You'll enjoy an incredibly high level of individual attention from your tutors. Your singing and voice tutorials are taught one-to-one, and your acting classes will have no more than 12 students (but often you'll work in groups of two or three on specific scene studies). Cast sizes can vary, but because of the amount of work being produced by the drama department, a production can have as few as three cast members – offering you extraordinarily detailed tuition.
Your small cohort means your tutors really get to know you – they have time to 'walk the room' and adapt the work to each individual body, voice and mode of learning present.
To prepare and provide a potential pathway for work after graduation, your cohort will present a showcase in Cardiff, New York (for American students) and London's West End. Industry employers, casting directors and agents are invited to all performances and provide – alongside other professionals – vocationally driven masterclasses, workshops and audition opportunities.
We've also engaged an industry liaison to work in brokering relationships between our students and industry professionals, such as agents.
You will be able to take control of your own artistic development, as we train you to devise and create your own work – performed in the first and second year as part of an internal festival. In the final year, you can pitch to make one of four pieces that we will help you realise as a stage production running alongside the NEW season in Cardiff and London. 
Our excellent links with industry help you to build a network of contacts and offers real experience of working in some of the country's top theatres. Visits from industry professionals routinely exceed 1,000 in any given year.

And you'll also have opportunities to take part in workshops (Royal Shakespeare Company, Sherman and National Theatre Wales), festivals (Wannamaker), competitions (Carleton Hobbs and Spotlight) and awards (Olivier, Gielgud and Bates).

In your second year, you'll take part in a devised collaborative project that offers you a chance to work alongside musicians to create a theatrical piece that engages with the community.

Traditional TV drama and film work will be taught alongside green screen, motion capture, automated dialogue replacement (ADR), voice-over and short-form. Opportunities for your film work will also find a public platform – either digitally or screened live.
Our graduates have gone on to work in theatre, film, TV and radio – national and internationally – with a number of students being nominated for, and winning, industry awards. Notable alumni include Anjana Vasan, Anthony Boyle, Tom Rhys Harries, Eric Kofi-Abrefa, Arthur Hughes, Anthony Hopkins, Callum Scott Howells, Thalissa Teixeira, Edward Bluemel and Ruth Jones.
Sign up to receive our latest updates
An email asking you to confirm your address will be sent. Please check your spam / junk folder if the email doesn't arrive within a few minutes.
The College takes the protection of all personal information seriously and is fully committed to the protection of the rights and freedoms of all individuals. We will process your data according to our privacy statement, which you can read at https://www.rwcmd.ac.uk/privacy
Find out more about the department
Allow Unistats (Discover Uni) content?
This content is provided by Unistats (Discover Uni). We need to ask for permission before viewing as they may be using cookies and other technologies to collect and process your personal data. For more information, please read their privacy policy , cookie policy. To view please accept below.