Scenic Construction: Creating industry-ready graduates
Wales has seen a significant increase in film and TV productions over the last decade, with global companies such as Bad Wolf and Severn Screen making Wales their home, and Netflix, Lucasfilm and more filming here.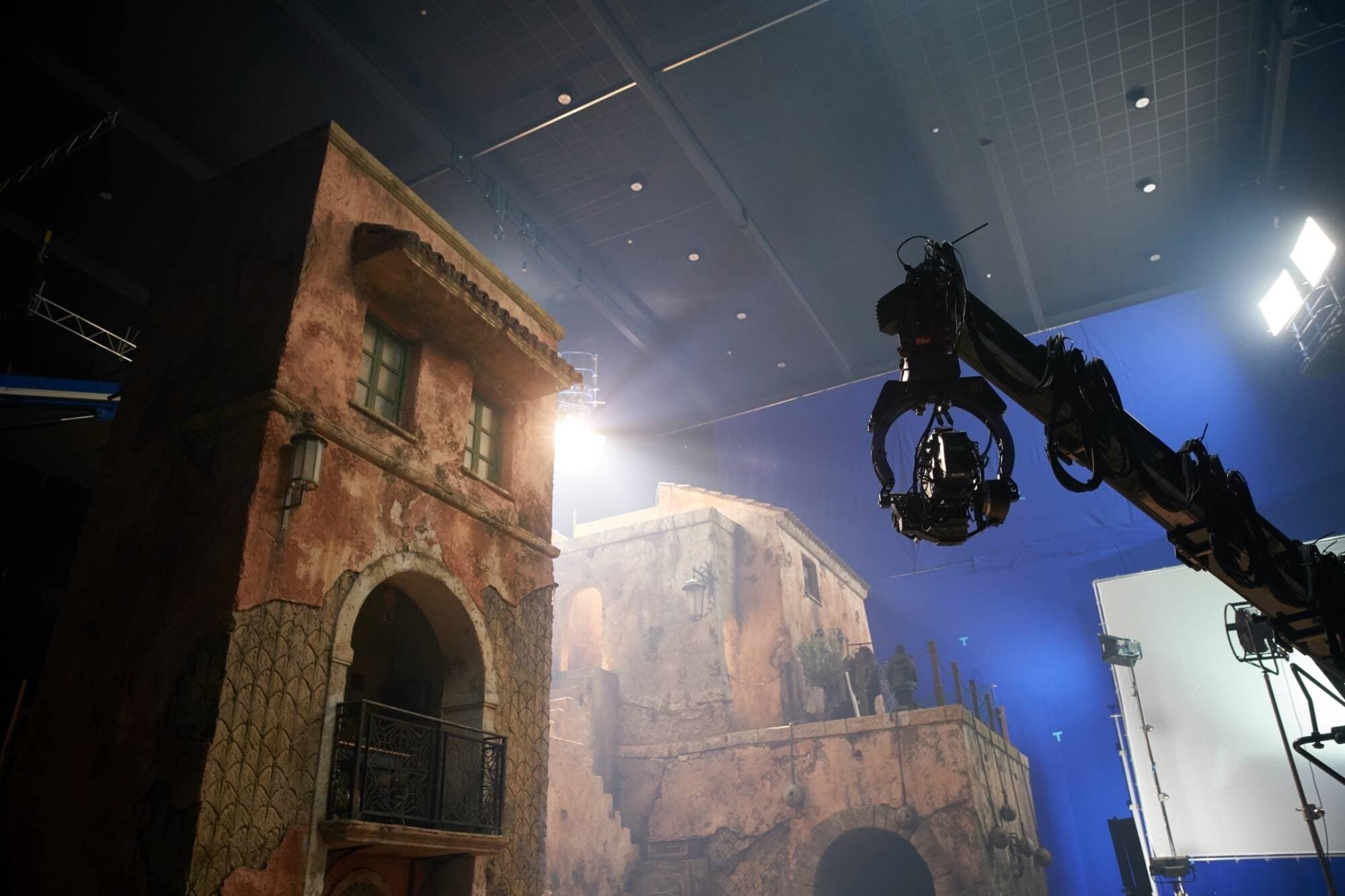 Its diverse locations and skilled workforce attracts both critically acclaimed dramas as well as blockbusting epics. A lot of what we see on our screens is very much #MadeinWales.
Allow Youtube content?
This content is provided by Youtube. We need to ask for permission before viewing as they may be using cookies and other technologies to collect and process your personal data. For more information, please read their privacy policy , cookie policy. To view please accept below.
'The industry is really booming right now, and Wales has this amazing combination of assets. We've got these great stage facilities, beautiful landscapes, and this great talent in Wales, which of course – me being Welsh – I was thrilled to see.'

Lynwen Brennan

RWCMD Fellow, Executive Vice President and General Manager of Lucasfilm Ltd.
Scenic construction is one production skill experiencing unprecedented demand.
With shows like His Dark Materials, Willow, Sex Education and Y Golau/Light in the Hall all made in Wales, set building work is thriving and there is a growing need for trained technicians with a passion for the stage and screen industries. Skilled craftspeople have left the more traditional workshops, which has created a real shortage in industry.
'The Welsh film and TV industry urgently needs people with scenic construction, design skills and solid practical, technical experience to work in our art departments.

RWCMD's Scenic Construction course is one way we are filling this gap, and we have seen that graduates from the College become long-standing members of the Wolf Pack, moving from one production to another.

The great thing about RWCMD graduates is that they have such a great work ethic, and a robust all-rounded skills base. This means they can hit the ground running once they join us.'

Hannah Raybould

Operations Manager Bad Wolf
Allow Youtube content?
This content is provided by Youtube. We need to ask for permission before viewing as they may be using cookies and other technologies to collect and process your personal data. For more information, please read their privacy policy , cookie policy. To view please accept below.
RWCMD's Foundation Degree in Scenic Construction is the only one of its kind in the country, aimed at addressing this skills shortage across the creative sector and preparing industry-ready craftspeople.
The two-year course is based at our fully-fitted workshops, where students learn the core craft skills such as carpentry, metalwork, and welding, essential for the construction of film and theatrical sets.
'Previously there hasn't been a course specialising in this area, people often just stumbled into it, like I did,' explains Mike Robinson, course leader for the course.

'As well as learning the profession's core skills, the course focuses on industry placements, and students work with the College and with our professional partners in the theatre, TV and film industries.

We work with some of the largest and most prestigious scenic construction companies in the UK.'

Mike Robinson

RWCMD Foundation Degree in Scenic Construction course leader
Our current partners include Wild Creations, run by RWCMD graduate Matt Wild, and construction company 4Wood, who are one of the companies building sets for Doctor Who amongs many other projects.
It also includes Cardiff Theatrical Services, who build all the Welsh National Opera shows, and for other companies as far afield as the USA and Australia, and Bay Productions, who work with major arts companies including the National Theatre and Disney and make sets for West End shows.
Incredibly they're all based within a square mile of Cardiff, which says something about the capital city's important place in the thriving UK industry.
The course is open to students with a range of experience and backgrounds. You don't need previous construction experience to get a place.
'We're looking for passionate, inventive, creative students who are open to being challenged and trying new things. We're here to teach them the skills. They just need the passion for the work.

Mike Robinson

RWCMD Foundation Degree in Scenic Construction Course leader
Allow TikTok content?
This content is provided by TikTok. We need to ask for permission before viewing as they may be using cookies and other technologies to collect and process your personal data. For more information, please read their privacy policy , cookie policy. To view please accept below.
'One of our students had studied site carpentry but didn't see herself on site. Several others came straight from A-Levels, but didn't want to work in an office or spend all day in lectures – this was just what they were looking for.
Another worked in construction, doing everything from fitting kitchens to tiling. He'd never thought about going to university before he came across the course.'
'There are many, many options in the film industry, whatever your skillset is. Whatever you're interested in there's probably a place for you in the film industry.

Keep knocking on that door, because it is available to you and it's available to you right here in Wales.'

Lynwen Brennan

RWCMD Fellow, Executive Vice President and General Manager of Lucasfilm Ltd.
With thanks to Bad Wolf/Creative Wales/Lucasfilm/Disney+