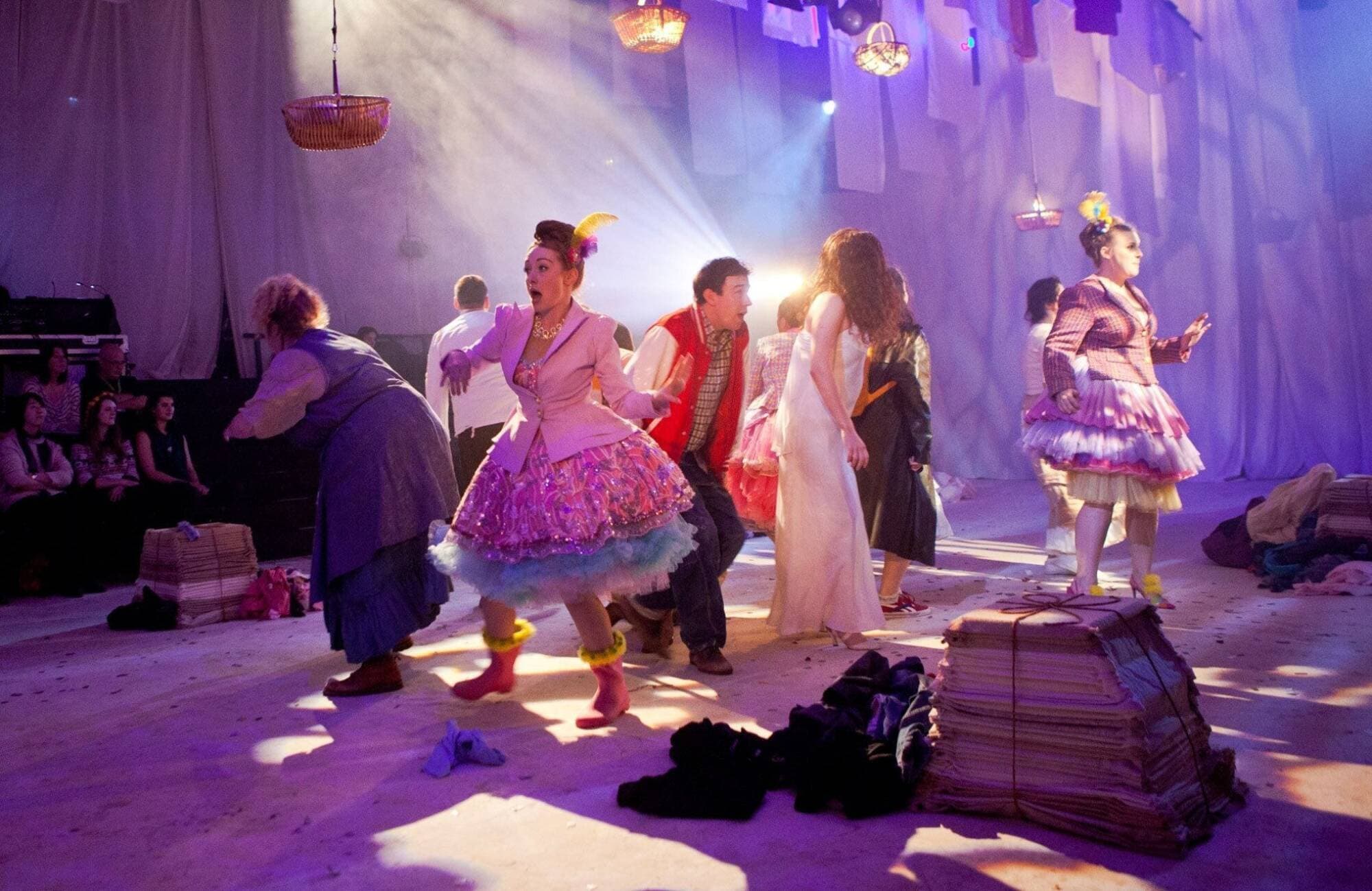 BA (Hons) Musical Theatre
Award:

BA (Hons) Musical Theatre

Awarding body:

University of South Wales 

Location of study:

Cardiff (RWCMD, Llanishen Studios and Old Library)

Start date:

17 September 2023

Duration:

Three years full time

Course code:

RW02 – UCAS Conservatoires
Introduction
---
Explore a diverse range of singing, spoken voice, dance and acting methods in our course with numerous performance projects and two fully staged productions.
Course overview
Our musical theatre programme – the only one of its kind in Wales – equips you with physical, vocal and professional skills to meet the demands of this ever-changing industry.
Heavily practical in nature, it prepares you for a career in musical theatre through a rigorous, expert-led training programme, enriched with performance projects and two fully staged productions working under professional conditions.
Guided by our experienced industry practitioners, you'll study a comprehensive range of singing, spoken voice, dance and acting methods. You'll also learn how to create your own original work through a collaborative and creative process – contributing, cooperating and taking responsibility for the collective realisation of a final project or performance.
To help foster exciting opportunities for future work, we organise musical theatre showcases for our final-year students. You'll perform in Cardiff, London's West End and New York (for our American students) to an invited audience of industry professionals, including agents and casting directors.
With individual tuition and small group classes set in a thriving creative arts centre, you can evolve into a reflective, collaborative and professional artist, possessing all the skills that pave the way for a deeply rewarding career on stage.

What our students say
'Every single tutor on this course fosters an incredibly open and safe environment. An environment where I truly feel like there is no wrong answer. I feel like I've grown so much as a person already.'

Ritesh

Year 1 BA Musical Theatre student
'I knew I needed to train. I knew it was vital as otherwise I wouldn't have a career with any longevity. 'RWCMD was the perfect school for that industry standard training, and also for me as a person. It's given me the muscularity to be a complete actor, ready to start my career. Acting is such a multi-faceted job and what the College does so brilliantly is to get you to immerse yourself in it all - working with so many specialists, from radio to screen and everything in between.'

Callum Scott Howells

Graduate and Fellow
Why study this course?
You'll develop a comprehensive, highly developed and cohesive set of vocal, professional, physical and acting skills and techniques. These will allow you to adapt to the diverse opportunities and wide-ranging demands of today's rapidly expanding musical theatre industry.
You'll develop a broad working knowledge and appreciation of both contemporary and classical musical theatre repertoire and genres.
It's the only programme in Wales that provides professional, conservatoire-based training in musical theatre.
You'll have one-to-one tutorials, small classes of 16 to 18 students, workshops, performance projects and seminars. 

Our impressive list of tutors includes renowned industry practitioners, distinguished coaches and creative artists in a range of genres. They offer you not only first-rate teaching, but mentorship and networking opportunities as well.
Three industry showcases in Cardiff, New York (for our American students) and London's West End will allow you to demonstrate your talent to a roomful of industry professionals, such as casting directors and agents.
You'll participate in a series of performance-based projects, concerts and cabarets, collaborating with students on your course and those studying other subjects here at the College.
One of these opportunities includes a 'bridge project', which places you in a professional rehearsal environment working alongside stage managers and lighting and sound designers towards a short run of performances of scenes, or an abridged work, for an invited audience.
In your final year, you'll also take part in public performances of two consecutive, fully staged productions, working under professional conditions as part of our Richard Burton Company.
Our robust links with the profession means you'll work closely with a range of leading industry visitors, such as renowned directors.
You'll explore the creative process involved in developing your own work, helping to further extend your professional potential.

You'll have practical classes and workshops focusing on singing, voice, speech and text, which are supported by individual tutorials. Dance classes cover jazz technique and repertoire, including street and commercial forms, as well as ballet and tap, Latin and ballroom styles.

Acting classes will guide you through practical explorations of approaches to improvised performance, working with texts, developing character and building relationships through the rehearsal process.
You'll also study approaches to Shakespeare and other heightened texts, as well as investigate the specific practices and demands of the film and television industries.
You'll focus on boosting other skills essential to maintaining a portfolio career, such as finding employment and learning successful audition techniques.
Sign up to receive our latest updates
An email asking you to confirm your address will be sent. Please check your spam / junk folder if the email doesn't arrive within a few minutes.
The College takes the protection of all personal information seriously and is fully committed to the protection of the rights and freedoms of all individuals. We will process your data according to our privacy statement, which you can read at https://www.rwcmd.ac.uk/privacy
Allow Unistats (Discover Uni) content?
This content is provided by Unistats (Discover Uni). We need to ask for permission before viewing as they may be using cookies and other technologies to collect and process your personal data. For more information, please read their privacy policy , cookie policy. To view please accept below.