The Flying Bedroom Theatre Company: trust and teamwork
Catching up after a busy summer, we spoke to four members of the Flying Bedroom Theatre Company about touring, trust, collaboration and the future.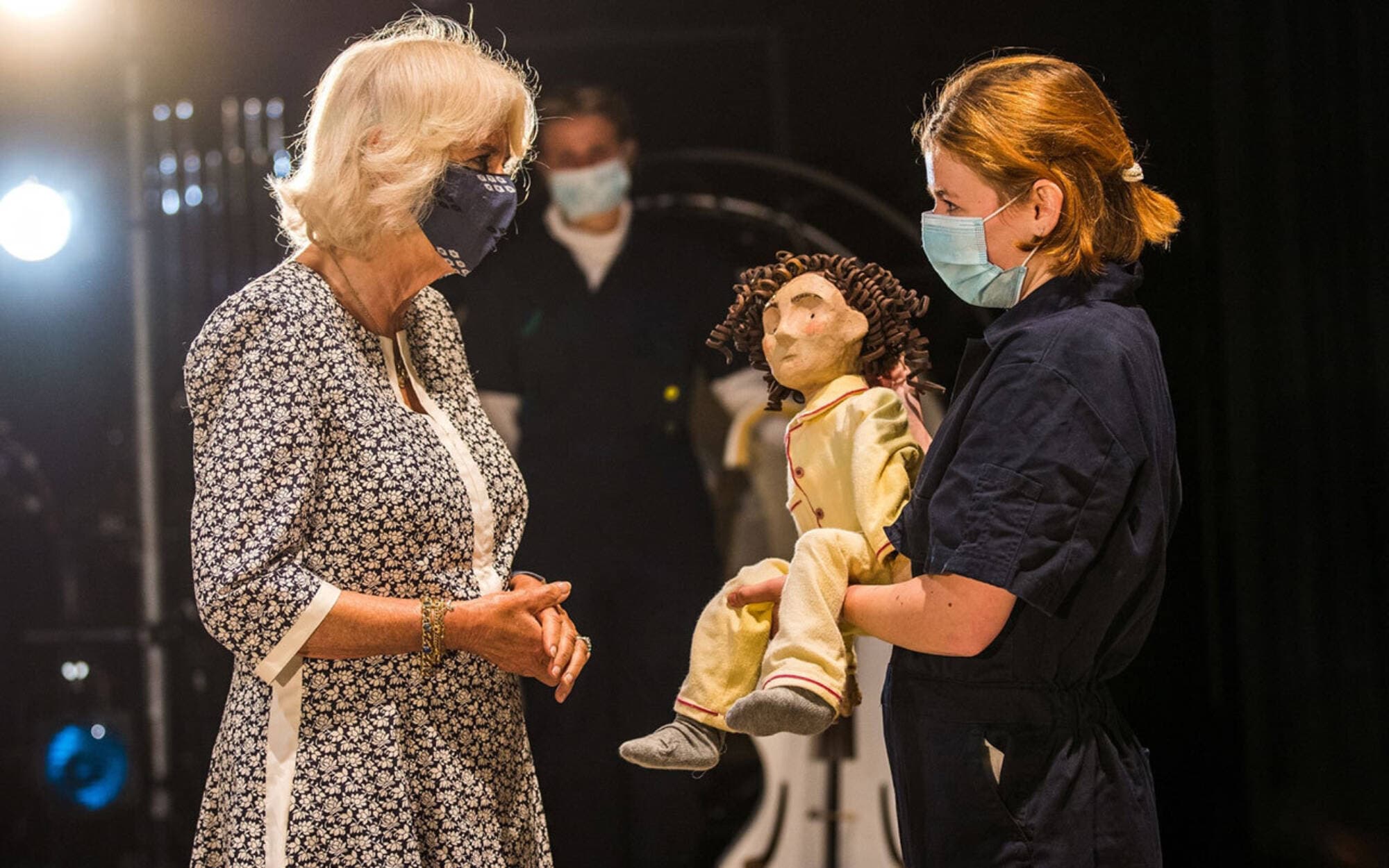 Made up of Music and Design for Performance students, their first production has had a lengthy process from its inception.
Formed in the first lockdown, they were finally able to perform their children's show to its intended audience this July at Theatr Clwyd Family Arts Festival followed by a North Wales schools tour in September.
'The Flying Bedroomers' are an amazing group of young artists with an unbridled enthusiasm and passion for this project and what felt like life in general.

To have created a show like this at any time is an achievement, but to do so in the last twelve months is truly remarkable. Their professionalism during our meetings and their three performances at our Family Arts Festival was beyond reproach and their desire to learn inspirational.'

Aled Marshman

Director of Music at Theatr Clwyd
Trust and collaboration
Building the company over lockdown took trust, commitment and a shared passion for their project.
Recent Design for Performance graduate Ruby Brown described one of the challenges the company faced while touring: Having to adapt the performance for an 'absolutely tiny' church.
'It shows a lot about trust,' explained Mary Johnson, final year percussionist. 'We arrived there and we were looking at the space like 'oh gosh what are we going to do!' We just had to get on with it. You just have to trust that everyone is going to look out for each other, and we definitely have that as a company.'
Ruby believes the company's origins helped with this, as they became close over Zoom before they even got into the rehearsal space. 'Having that concentrated period of time at the beginning where we were doing nothing else really helped to solidify this relationship.'
Allow Twitter content?
This content is provided by Twitter. We need to ask for permission before viewing as they may be using cookies and other technologies to collect and process your personal data. For more information, please read their privacy policy , cookie policy. To view please accept below.
Given the development process took place during such tight restrictions, Ruby explained how freeing it was to be able to rediscover the show with new blocking (the movements of performers across the stage).
'To know the show so well but be working to such a strict set of rules, being two metres apart, and to then have those rules taken away was really exciting.'
Support from the College
Having support from the College meant they were able to explore different ideas and approaches, and make mistakes.
'It wouldn't have happened without the passion the seven of us had and it also wouldn't have happened without College spaces.

We're very grateful for all those opportunities and the tutelage that we've had, supporting us particularly at the beginning when we'd stumbled across this magical thing but needed the time to explore it and work out what we wanted to do with it.'

Mary Johnson

RWCMD Music student, Percussion
Ruby agrees, 'The College does a great job encouraging Designers to explore their field and to do different things. We have opportunities to be puppet makers and designers but also to be integral performers if you want. I've always been interested in creating my own theatre and exploring how you do that from a Design perspective.'
Ruby and fellow Design grad Bea Viña-Miller were able to submit their work with the company as part of their specialist studies module.
From composition student Natalie Roe's point of view, this was a 'great opportunity' for her. 'It meant that I could experience what a performer experiences and this has influenced my own creative writing.'
Working with schools
Allow Twitter content?
This content is provided by Twitter. We need to ask for permission before viewing as they may be using cookies and other technologies to collect and process your personal data. For more information, please read their privacy policy , cookie policy. To view please accept below.
Because of the last year of restrictions, for some children it was their first time back in a school hall experiencing a performance together.
'For some of the younger ones they might not have seen any theatre before. It was an enjoyable experience to provide that for them,' said Ruby.
Having only performed the show to adults before, Natalie described her favourite part of her experience:
'I love seeing the children's reactions and hearing of the positive impact the show had on the children.

We heard after from teachers and parents that these kids have now started to learn various instruments, or how to act, or that they asked about the design. To hear that they were inspired by the show was really nice.'

Natalie Roe

Composition Student
They also learned lessons on the job, working out how to explain everything to the children in 40 minutes. And also making sure they didn't push the children away by using terms they might not be familiar with – for example explaining that a 'conductor' is not just someone who drives a train.
Mary explained why they chose to give the company-led workshops after the show rather than before: 'It's really important to gain the trust of kids first. You want to welcome them into the world, and you want them to be inspired.'

Allow Twitter content?
This content is provided by Twitter. We need to ask for permission before viewing as they may be using cookies and other technologies to collect and process your personal data. For more information, please read their privacy policy , cookie policy. To view please accept below.
The future for the Flying Bedroomers
Working on this project has given them a 'rippling effect' of opportunities as violinist Chloë Dickens puts it. 'Now we're entering the professional world, networking and meeting role models in the industry, this show has given us an amazing talking point, to be able to say we're part of this start-up theatre company which has already been really successful.'
Her next exciting step is to return to Theatr Clwyd to shadow actor-musicians during Panto season. Company member Michael Needle will be joining her there, shadowing producers.

'We're very much sticking together and trying to create more work and do more shows in different places.'

Mary Johnson

Percussion student
Though the company are talking about another show, Mary emphasised that this is at the 'very beginning'.
We all look forward to seeing what the company gets up to next.
Thanks to The Flying Bedroom Company and to Ruby, Natalie, Mary and Chloë for speaking to us
Bea Viña-Miller – Graduate, Design for Performance
Ruby Brown – Graduate, Design for Performance
Natalie Roe – Music, Composition
Mary Johnson – Music, Percussion
Michael Needle – Music, Strings
Mischa Jardine – Music, Strings
Chloë Dickens – Music, Violin