Scenic Construction: Building a future in the arts industry
The new Scenic Construction course was set up to fill a gap for qualified highly skilled construction workers in both theatre, and the booming Film and TV industry in Wales, which the College plays a big part in feeding.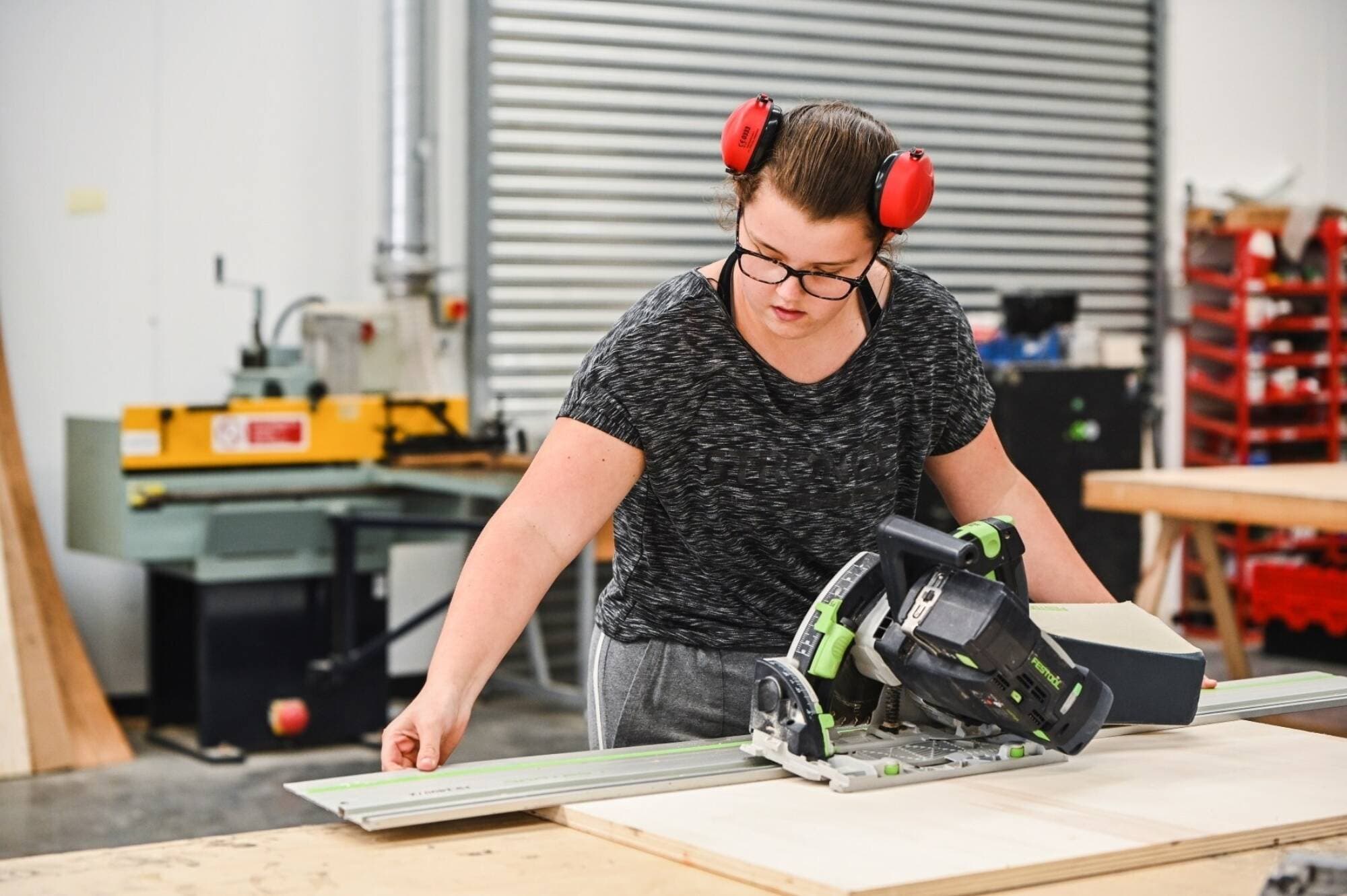 'Scenic construction work is thriving alongside the rise of Film and TV production in Wales. We're delighted to support the College to train the next generation of practitioners to take on new jobs in the industry'

Hannah Raybould

Operations Manager for Bad Wolf, one of the course's industry partners
The very first students on this brand new course have been busy working on College shows and are now headed off to their first placements.
We asked five of them why they had joined this new course, and what they were hoping to learn:
Why study Scenic Construction?
The students have come from a variety of backgrounds, but they all clearly have a passion for their work on the course.
Jake Bourne had been working in construction, doing everything from fitting kitchens to plastering and tiling. He never thought he'd go to university before he came across the course.
Coming straight from his A Levels, Will Houghton has always been interested in design and construction. He found the fact that this was a brand new course exciting because, as one of the first students, he could help to shape it.
G Williams and Harry Holtam had also been studying for A Levels. G said he knew he wanted to work in the arts, but not in an office job;
'I visited the Royal Welsh College and knew I wanted to be there because everyone was so friendly and welcoming.'
Harry, below, agreed, 'I just don't see myself in an office job, or in lectures. I saw the course and thought, that's more me.'
Having previously studied Site Carpentry, Hannah Walters, (featured image), didn't see herself doing construction on site. 'I was looking for other courses and this course peaked my interest. You can build loads of different things for one set.'
Getting on to the course
Successful applicants are invited to an interview to talk about the course and their interests.
For Will the interview was more like a chat. 'Nobody was trying to catch you out, they just wanted to get to know you. I was more nervous than I should have been.'
Harry agreed that his interview was 'really friendly and welcoming.'
'Speaking to the lecturers put into perspective that this was a course that was available for someone like me with no background, so it reassured me,' said G after his interview.
The Scenic Construction course
Allow Twitter content?
This content is provided by Twitter. We need to ask for permission before viewing as they may be using cookies and other technologies to collect and process your personal data. For more information, please read their privacy policy , cookie policy. To view please accept below.
The students start in August, rather than September like most students. They learn core skills at Llanishen Studios where the course is based, helping them to settle into the workshop before it got busy.
The students worked on the autumn season of the College's Richard Burton Company: Human Animals in the Caird Studio, Sweat in the Richard Burton Theatre, and Appropriate in the Bute Theatre.
'Working on the sets, there's a new challenge, something to solve, but the group works as one big team, helping each other find solutions,' said Hannah.
'Seeing how the shows come together with the sets made me realise just what we were working towards and how much work we'd done,' reflected G.
Next stage: placements
Will is on the first of five external placements he'll do over the two year course, with Wild Creations, one of the course's four industry partners.
Founded by Stage Management graduate Matt Wild, they create the 'weird and wonderful,' for example, the famous Ball in the Wall in the side of Cardiff Castle to celebrate the Rugby World Cup coming to the city.
'Already in four days I've learnt so much more than I thought I would learn.

There's always more to learn on the course.'
The other students are off on placement soon, with G and Harry joining Bay Productions, who work with major arts companies including the National Theatre and Disney and make sets for West End shows like Frozen.
Meanwhile, Hannah and Jake are off to 4Wood, based at Bad Wolf Studios, who build sets for Doctor Who among many others.
'So far the course has been exactly the way I would have made it. If I had my ideal course it would be like what we're doing now.'
Looking to the future
'Cardiff is probably one of the best places for this industry. I moved from Luton to study here.

There are so many different companies here, whether you want to go into film and TV or theatre. Cardiff is a good place to be a student, it's a really lively, vibrant city. People are very friendly as well.'
'For four of the industry partners to be within a mile radius of each other, it's really cool and they're all looking for people to work for them,' said Will. 'So it's great knowing that when we graduate the work is almost waiting there for us.'
First published: 23/11/2021