Working on Prague Quadrennial 2023: celebrating performance design
Design for Performance and Stage Management students were invited to Prague to work on the 2023 Prague Quadrennial, the world's largest festival of design and performance. Stage Manager Johanna Bunyan told us more: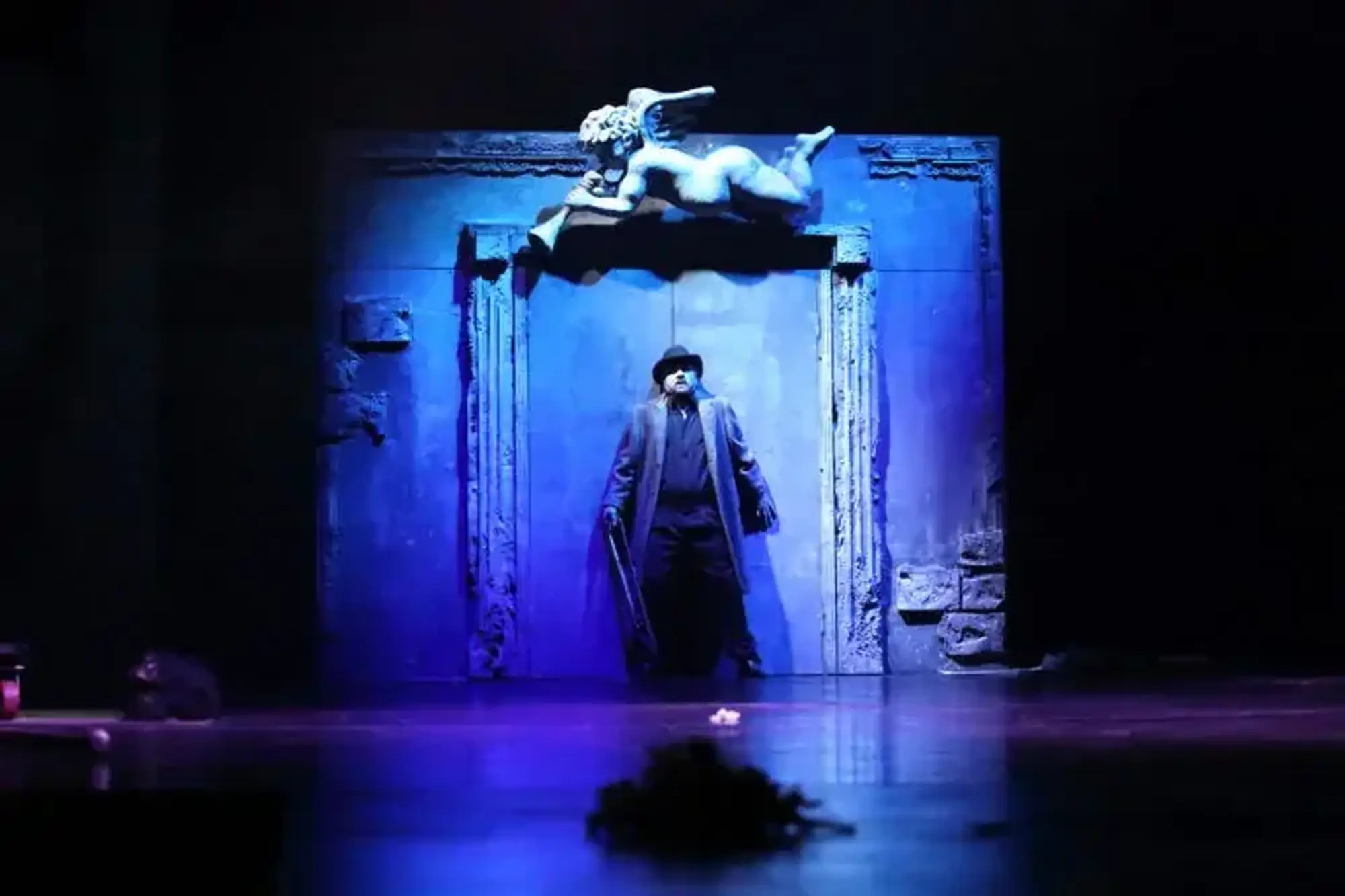 The world's largest celebration of scenography
As a Stage Management student I was really interested when I first heard about the Prague Quadrennial (PQ) because it's such a huge event. It's the largest celebration of scenography (scenic, lighting, sound, and costume design) with over 50 countries meeting every four years in the heart of Prague to display their work and celebrate scenography.
The College has strong links with PQ through our Director of Drama, Sean Cowley, and Head of Stage Management, Ian Evans, who have been closely involved with it for many years.

Along with three postgrad Design for Performance students I had the amazing opportunity to go to Prague to work at this year's festival, with its theme, Rare - the celebration of profound and bizarre concepts.
Sharing and gaining stage management expertise
I was working as part of the management team to ensure the event ran smoothly. My main job was coordinating the student volunteers or 'practicants' at the festival. I got to diversify my Stage Management skills into live events, and because of my previous training at the College, I could embrace this transition with ease.
'Through this amazing hands-on experience, I was able to put my learning from the last two years as a stage management student into action.

Working as part of a team with such incredible industry professionals, I was also keen to take all their wisdom back to Cardiff with me.

Networking has always been an important part of the industry and I have undoubtedly gained some valuable connections through this placement.'
A world of new experiences
Throughout my time in Prague, I also worked on the PQ Talks. This is a panel discussion where the audience can engage with Industry professionals and educators to discuss various topics regarding theatre and scenography.
'It was such an incredibly valuable experience, and I met so many amazing people as they discussed a variety of insightful topics. I was also able to film the talks, which expanded my videography experience.'
I was also able to work as an artist liaison, welcoming speakers and ensuring they were comfortable and happy before they went onto the panel. The wide variety of experience I gained through working on the talks added hugely to the different experience that I gained as a coordinator.
Design for Performance
MA Design for Performance student Krysia Milejski was an assistant with the PQ Studio workshops, supporting international practitioners.
'I learned new ways to approach the model, how to reframe hierarchy in production teams, new techniques and softwares for digital Costume design, and about the eco-scenographic approach to spacial design.
'I had a very enriching time meeting artists from around the world, seeing and engaging with their exhibitions and installations. My favourite part about PQ was the wonderful people I got the chance to work with.

The staff were welcoming and inviting and I learnt a lot from them. I'm very grateful to all of the workshop leaders who allowed me to assist and learn from them throughout the festival.

This was my second time at PQ, and I can't wait to go again!'

Krysia Milejski

Design for Performance student
Inspirational festival
The festival itself was the epitome of inspiring, continued Johanna. The environment of creative people congregating to celebrate their love of scenography was unlike anything I have experienced before.
Not only did I see beautiful artwork and crazy design concepts, but I also made friends for life.
'It was such a great experience for my learning and future career development, and it helped me to discover that I would love to work on live events in the future, which I had not considered before my trip.

Opportunities like this are so valuable because we are taught to specialise as we develop our training. Trying new aspects of theatre or events can introduce you to a new career path that you never knew you'd love.'
The Prague Quadrennial
Held every four years the Prague Quadrennial brings together performance and theatre professionals, students and visitors from all over the world over ten days. It's the world's largest scenography event, celebrating performance design including lighting, stage, costume, sound design and theatre architecture across all art forms including opera, dance, multi-media and site-specific performances.